Tahoe Expedition Academy
6th-Grade Bridge Program
Easing the Transition to Middle School
The transition from elementary school to middle school presents a unique set of challenges for growing learners at TEA. Increased academic rigor, transitioning between classes, and having more than one teacher all require students to scaffold up their executive function skills. Longer and more frequent overnight fieldwork experiences require an increased level of maturity and personal responsibility. With design elements from both of our elementary and middle models, the 6th-Grade Bridge Program at TEA will provide students with the necessary skills and content to be successful in older years.
Students in our Bridge Program will have two experienced TEA primary core content teachers, Loren Trux for math and science and Matt Morrison for social studies and English language arts. Each of the primary core content teachers will also serve as a Crew Leader during Crew Time, where we develop executive functioning and habits of scholarship. With a maximum enrollment of 28, students will be separated into two 14-student 6th-Grade crews, enabling a higher level of individualized attention during core academics and Crew Time.
Loren Trux - Math & Science Teacher
Loren earned his California Multiple subject Teaching Credential from Chico State University. During his most recent teaching experiences in Waldorf education he discovered many alternative methods for reading instruction and teaching techniques. Loren discovered his passion for working with children at a day camp in Tahoe City more than fifteen years ago and is very excited to be doing what he loves in Tahoe once again. He is eager to learn more about the expeditionary model and looks forward to sharing his ideas with the CommuniTEA.
He also enjoys many outdoor activities including mountain biking, kayaking, fishing and exploring nature with his family. Loren likes to play music and work making things with his hands. He lives in Kings Beach with his wife Ashley and daughter Iyla. Loren believes that a teacher's task is to help each student reach their greatest potential. To do this he must be a guide, and companion in the pursuit of knowledge and the pursuit should be authentic for the student and teacher.
What inspired you to join TEA? The opportunity to help kids reach their greatest potential.
Where did you go to school? California Multiple Subject Teaching Credential from Chico State University
What is something that not everyone knows about you, but probably should? I am an avid blacksmith and teach a blacksmithing class at TEA's summer camp.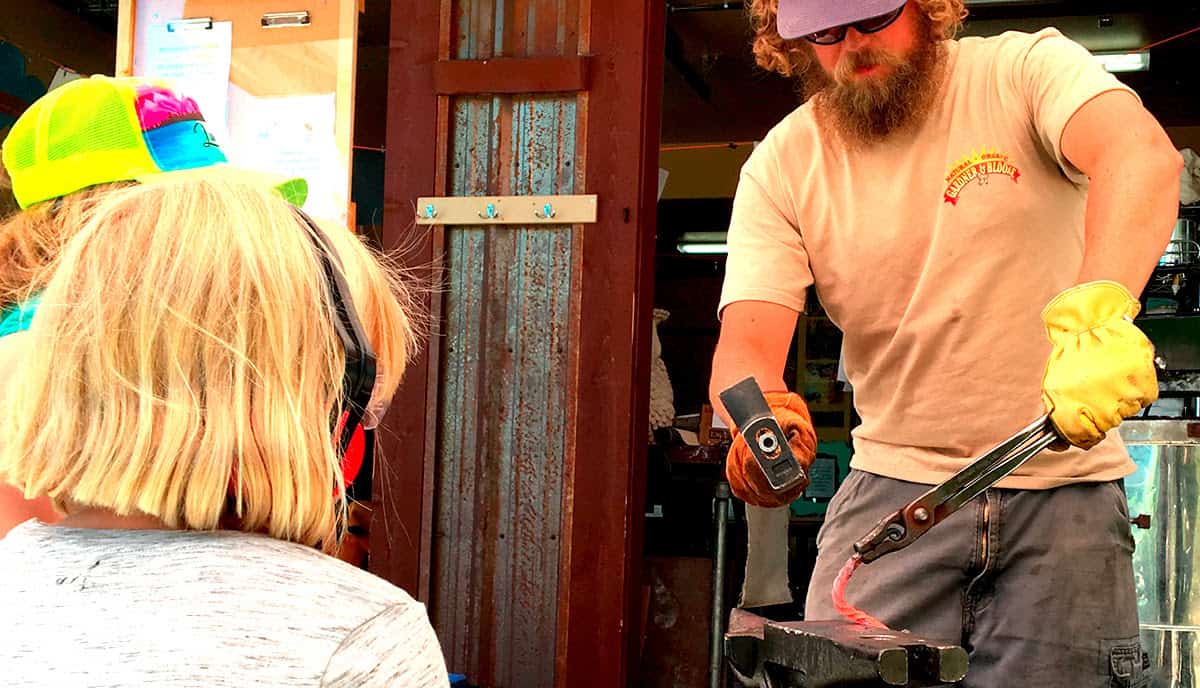 Matt Morrison - Humanities Teacher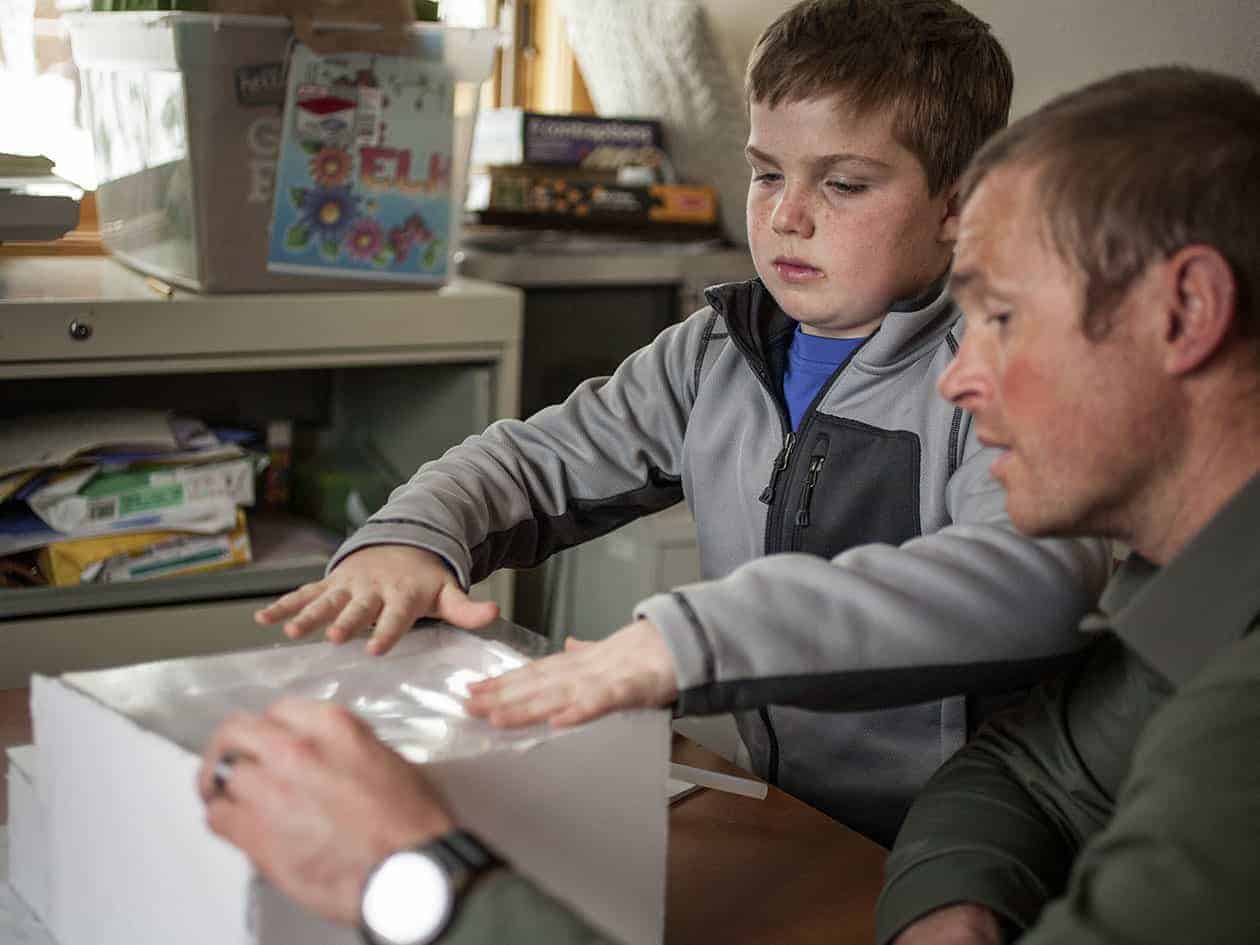 Matt's passion for teaching came from his time as a snow board instructor at Northstar. Though he enjoyed instructing adults, it was the kid groups that truly made him smile. Life had other plans though, and Matt put his ideas of teaching on hold while working in the private yacht industry, plying the waters of the South Pacific during the winters and cruising around New Zealand during the summers. He ended up going back to school to get his teaching degree in New Zealand and worked in a local elementary school as a 4th/5th grade teacher for 2 years before moving back to the USA. Once back home in 2012, Matt joined TEA where he taught 5th grade for 6 years before making the transition to the Middle School and High School in 2018. Matt was thrilled to join the Middle and High School team and have the opportunity to focus in on his love of history, while also helping to solidify the Middle School as an integral part of TEA.
What inspired you to join TEA? Seeing my kiddos come home from school each day with smiles on their faces and stories to tell.
Where did you go to school? University of Waikato / Graduate Diploma in Teaching; Sierra Nevada College / BS in Business Administration
What is something that not everyone knows about you, but probably should? I have logged over 26,000 nautical miles at sea.
Bridge Program Overview
During their core content classes and Crew Time, Bridge Program students will learn alongside their 6th-Grade classmates. However, during Intensives and Enrichments, students will be in class with 7th and 8th-Grade students and will be instructed by different teachers. Intensives are TEA's version of electives and are academic experiences designed to push students to the limits of their intellectual, social-emotional and physical boundaries. Enrichments are typically physical education, study hall, and student support.
Here is what a week in the life of a 6th-Grade Bridge Program may look like- remember another advantage of the program is the ability for the teachers to be flexible. Note during the classes that are shaded in blue, students would be with their 6th-Grade Crew peers. During other classes, students will be with a mix of 6th, 7th and 8th-Graders.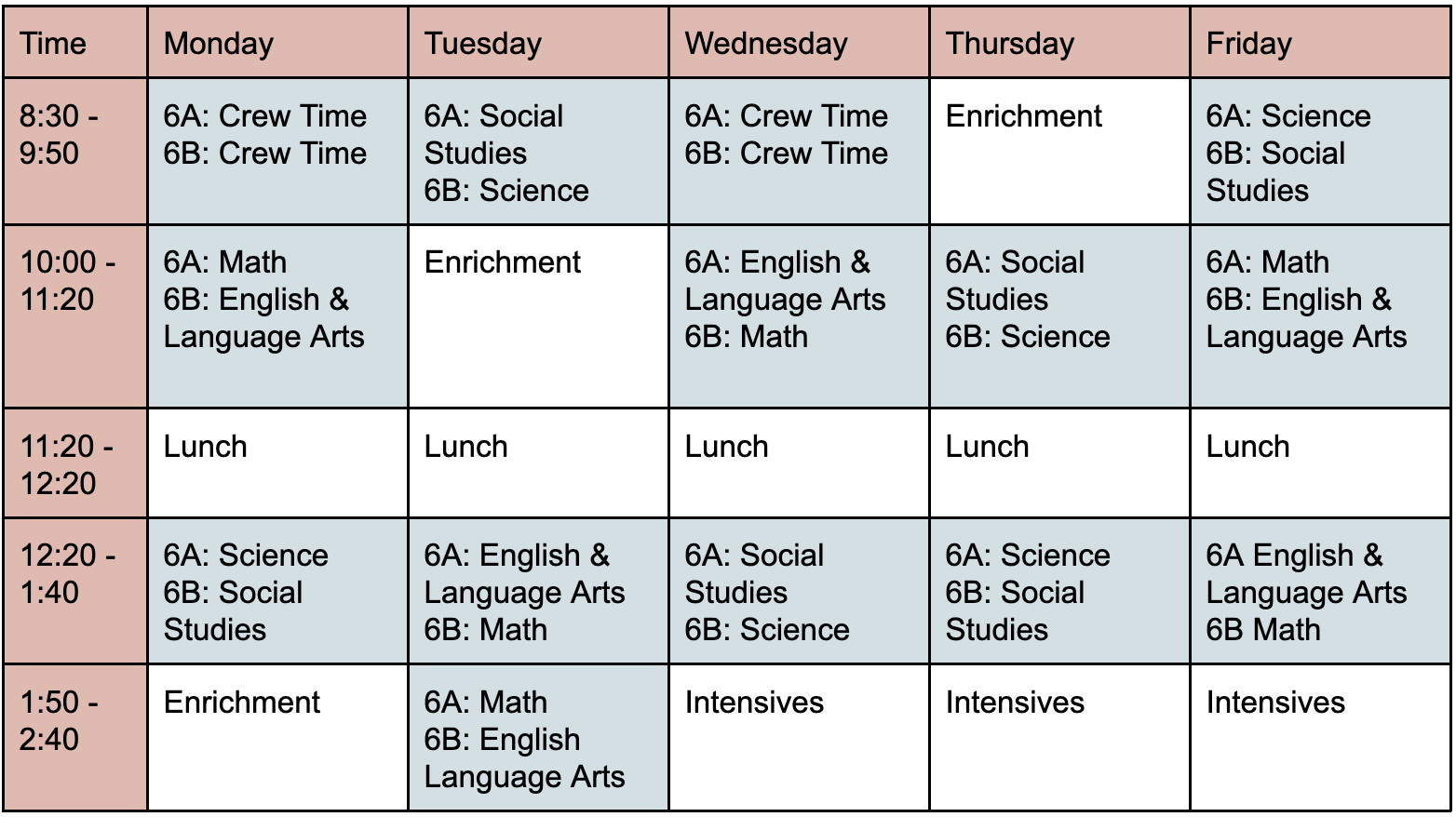 Fieldwork will be scaffolded to make sure that students have the skills and readiness needed as the demands of fieldwork increase. Fall fieldwork will consist of significant support for shorter overnight trips which will build into more rigorous five-day expeditions in the spring. Finally, when the 6th-Grade Bridge Program students enter 7th-grade, their schedule would look very similar to their 6th-Grade year, with the exception that all classes will be taught by different teachers and there will be combined 7th/8th grade math courses based on individual readiness.
To learn more about our 6th-Grade Bridge Program, fill out a brief inquiry form HERE.