Middle School Students Study the Balance of Power in Santa Cruz and Monterrey
How has humanity adapted to and effected change over time? How does societal norms, institutional biases, individual cultures, and beliefs impact power (past and present) within a society? How does resource availability and allocation determine varying success for groups within a society?
In a continuation of their Balance of Power Learning Expedition, our Middle school students recently drove six hours to the Santa Cruz / Monterey area for a 5 day, 4-night academic adventure. Led by TEA Middle School Teacher Beth Vallarino, our students were on a mission to experience the impacts of plastics on our environment, the causes and impacts of homelessness, and the benefits and drawbacks of a vegan/vegetarian diet. To create meaningful learning experiences in each of these subjects, Beth coordinated interactions with several real-world experts including Leslie O'Malley from City of Santa Cruz, Justin Wright from Homeless Garden, Bill Turner from Ocean Plastics Fabrication, and Nesh Dhillon, Executive Director of the Santa Cruz Farmers Market who was joined by his Market Manager, Rebecca Heuer.
Before the trip, students participated in sessions to build background knowledge on the impact of plastic in the environment and oceans– as well as on humans and wildlife. Students also learned about the environmental impacts of eating meat, as well as sustainable agriculture. Students learned about homelessness within the Bay Area and Santa Cruz.
As Santa Cruz is about a 6-hour drive from our campus in Truckee, California, everyone met on our campus, aka TEA Basecamp, to begin their adventure. And it's at this point that we're going to tell this story from a first-person perspective by sharing a "letter to home" from one of our students.
Dear Parents...
Hello! We know you have missed us. We missed you too, somewhat. We say "somewhat" because we had a week filled with adventure! On Monday we packed all our things in the car and headed West. Even accidentally packing the other group's cooler of food. One car group listened to 'Call me Maybe' 9 times. When we arrived at our beautiful and sunny camp site, sunset beach, we set up camp and took a walk on the beach. Many of us got soaked in freezing cold water! After, we headed back to camp and had a delicious meal of tacos, listened to a select few student podcasts (made by us!) and went to bed early.
On Tuesday, we slept in! After breakfast, we visited Panther Beach. There, we ate lunch and played in a river that flowed directly into the ocean. We also did a lot of BBK (building background knowledge) on species native to the Santa Cruz area.
We also read various articles about recycling's impact on climate change. After chilling at Panther Beach, we drove over to the recycling center and met with expert Leslie O'Malley. She taught us about the recycling process and its effects on our earth. She also mentioned the 5 R's of recycling; Refuse, rethink, reduce, reuse and recycle. Through her knowledge of recycling, we learned that recycling is like hammering a nail into a falling skyscraper. This posed the question 'Does recycling's effects really outweigh just cutting off plastic at the source?'. After meeting with Leslie, we went to Natural Bridges and hung out at the beach and caught sand crabs! Shortly after, we took a 4-mile urban walk in Santa Cruz. When we were done walking, we went back to camp in the rain and ate Mac and Cheese for dinner, and went to bed.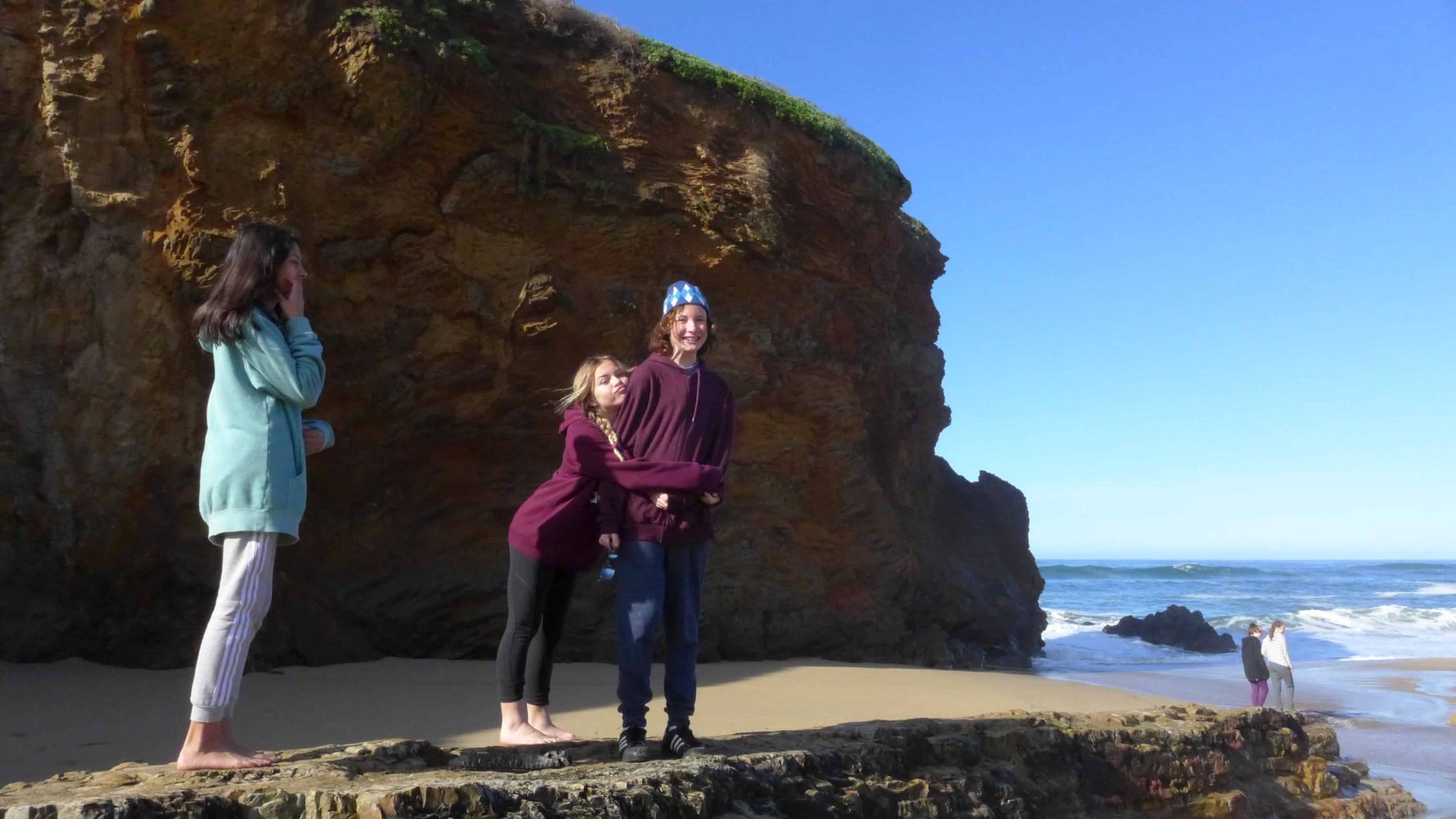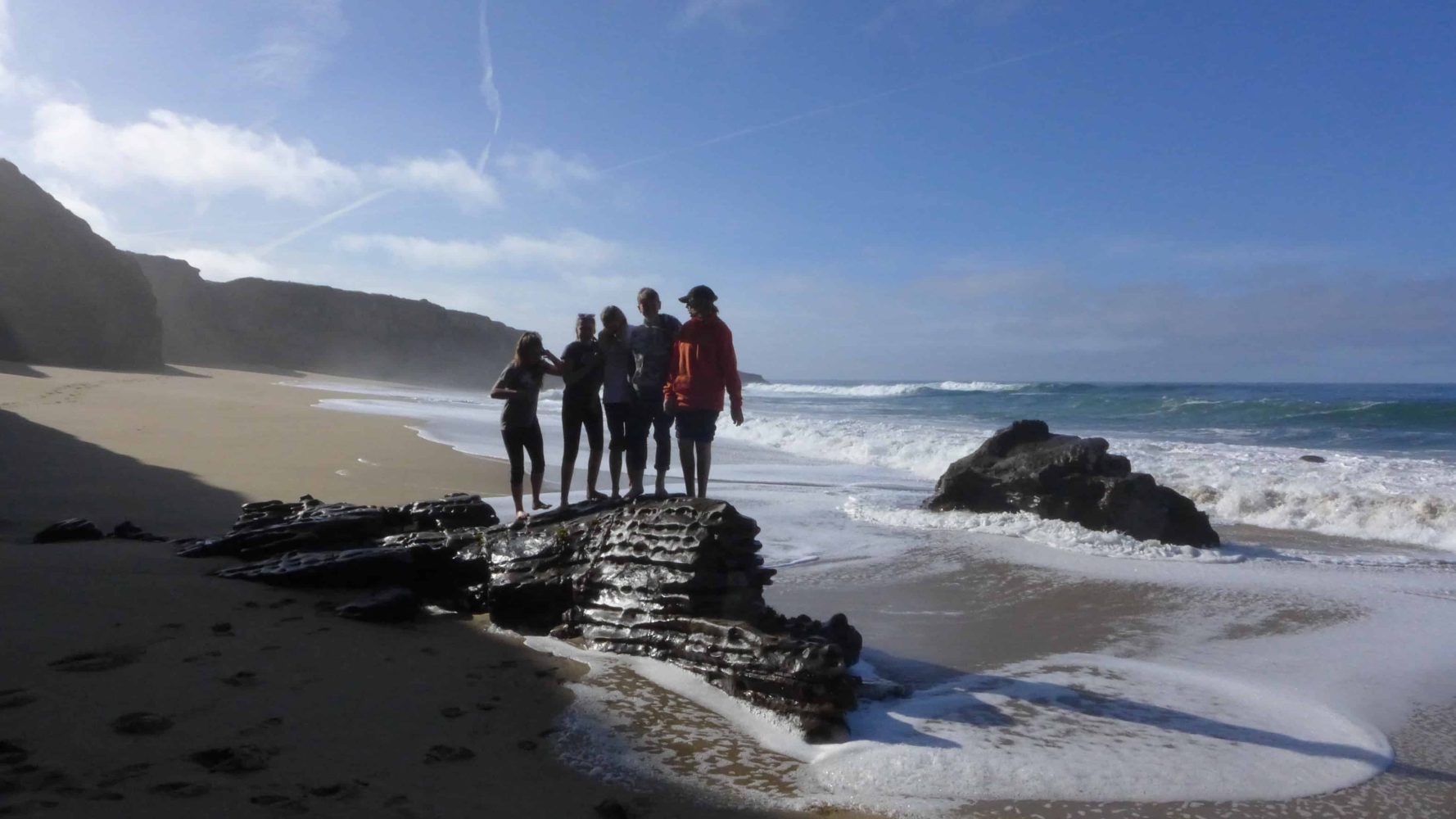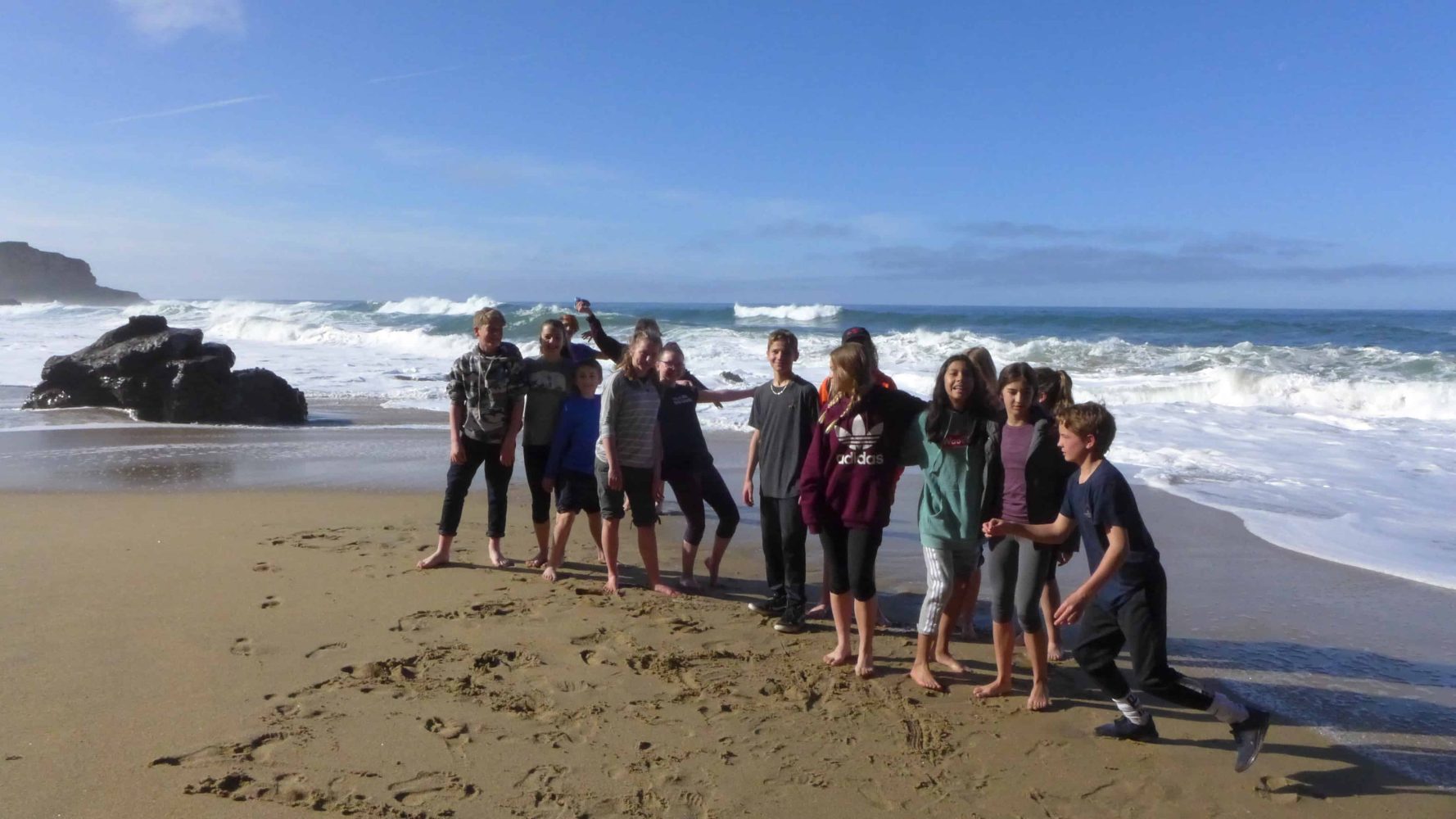 On Wednesday, Emma Ornelas kidnapped a lady bug named Chanel. Chanel stayed with us for almost the entire week! As for the students, we visited the Homeless Garden Project, where people experiencing homelessness can get a job and contribute to society. We helped move dead crops in wheelbarrows. In the process, we built our character by doing all of it in the pouring rain! We learned that homelessness is the result of behavioral or situational disfunction. The expert we met with was previously homeless, after being arrested after a manic episode as a result of his bi-polar disorder. Now he is helping train other homeless people to get jobs outside of the farm. Shortly following the Homeless Garden, we went to Santa Cruz farmer's market. There, we had lots of yummy honey sticks and pomegranate juice! While we were there, we also met with a farmer who thrives off of the local community and farmers market. He told us about how difficult farming is because of rising prices in food. After the farmers market, we met with Bill Turner, owner of a plastic fabrication center. Many, if not all of us, didn't agree with his views of earth. He heavily contributed to climate change but denied it, and told us we have to fix the problem he is contributing to on the daily. We went into his workshop and saw many of the microplastics that end up in the ocean. He was only monetary oriented. It was interesting to see the other side of the climate change debate. 
After that, we walked around Pleasure Point and went to dinner at Saturn Cafe, a vegan/vegetarian restaurant that was unexpectedly delicious. Many of us thought the food would taste like cardboard; we were wrong. In the words of one student "it tasted like angels".
On Thursday we drove to Elkhorn Slough, a protected wetland area. There, we kayaked (and splashed) around harbor seals and otters. After kayaking, we went over to Point Lobos and went tide pooling! Shortly after, we went to Carmel beach. The sand was super soft and everyone played in the crystal clear water. We even ate ice cream! After having our beach party, we went to Lovers Cove in Pacific Grove. There, we wrote reflections on our trip and enjoyed the beautiful views.
Friday. Friday is not pretty. As I write this, we are sitting in the car after waking up at 5:45 and packing up camp by 6:55. However, despite our state of tiredness, we are excited to see all of our parents and siblings and pets and whatever else! Thank you, parents, for providing the opportunity for us to go on such an amazing trip.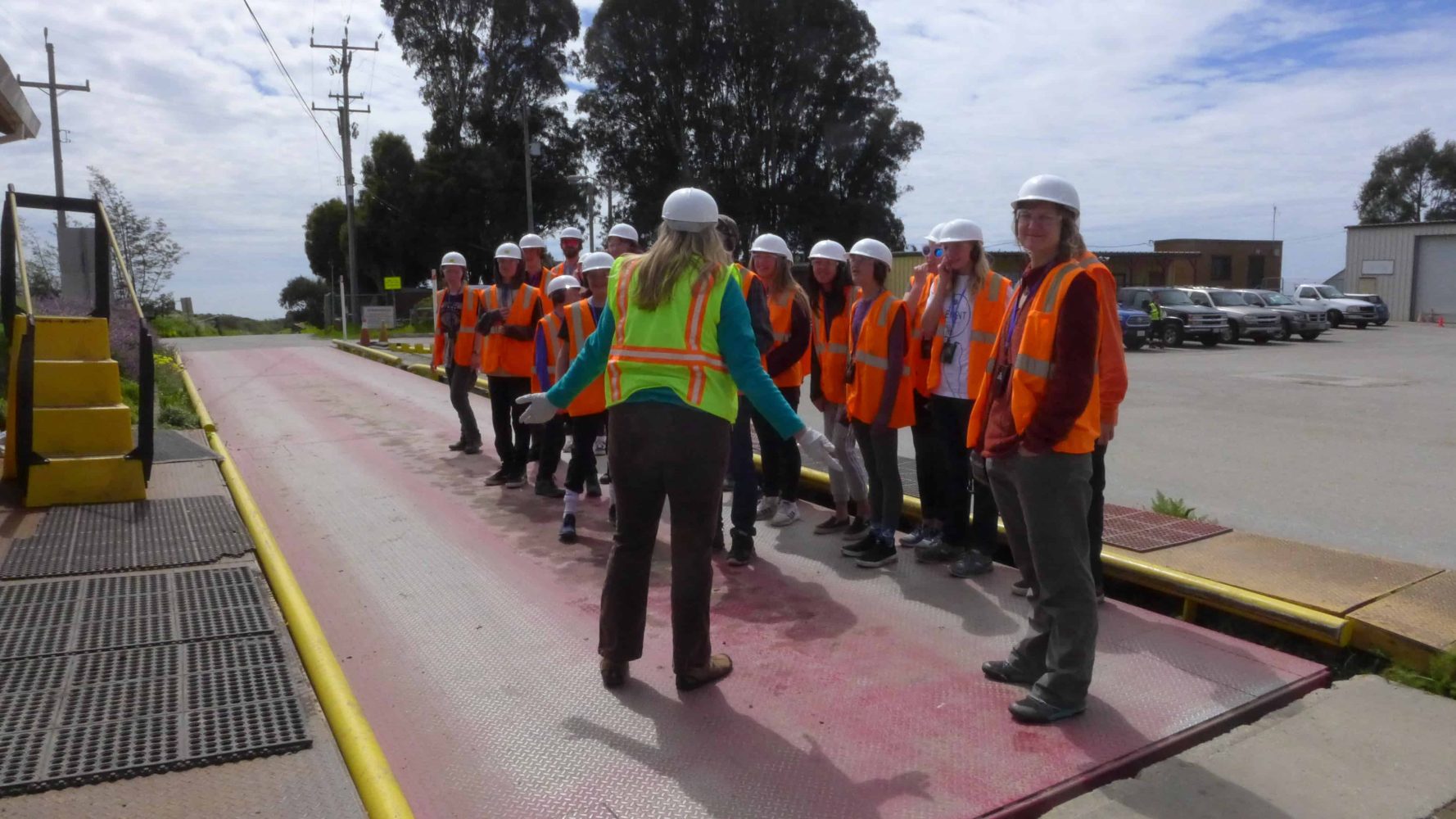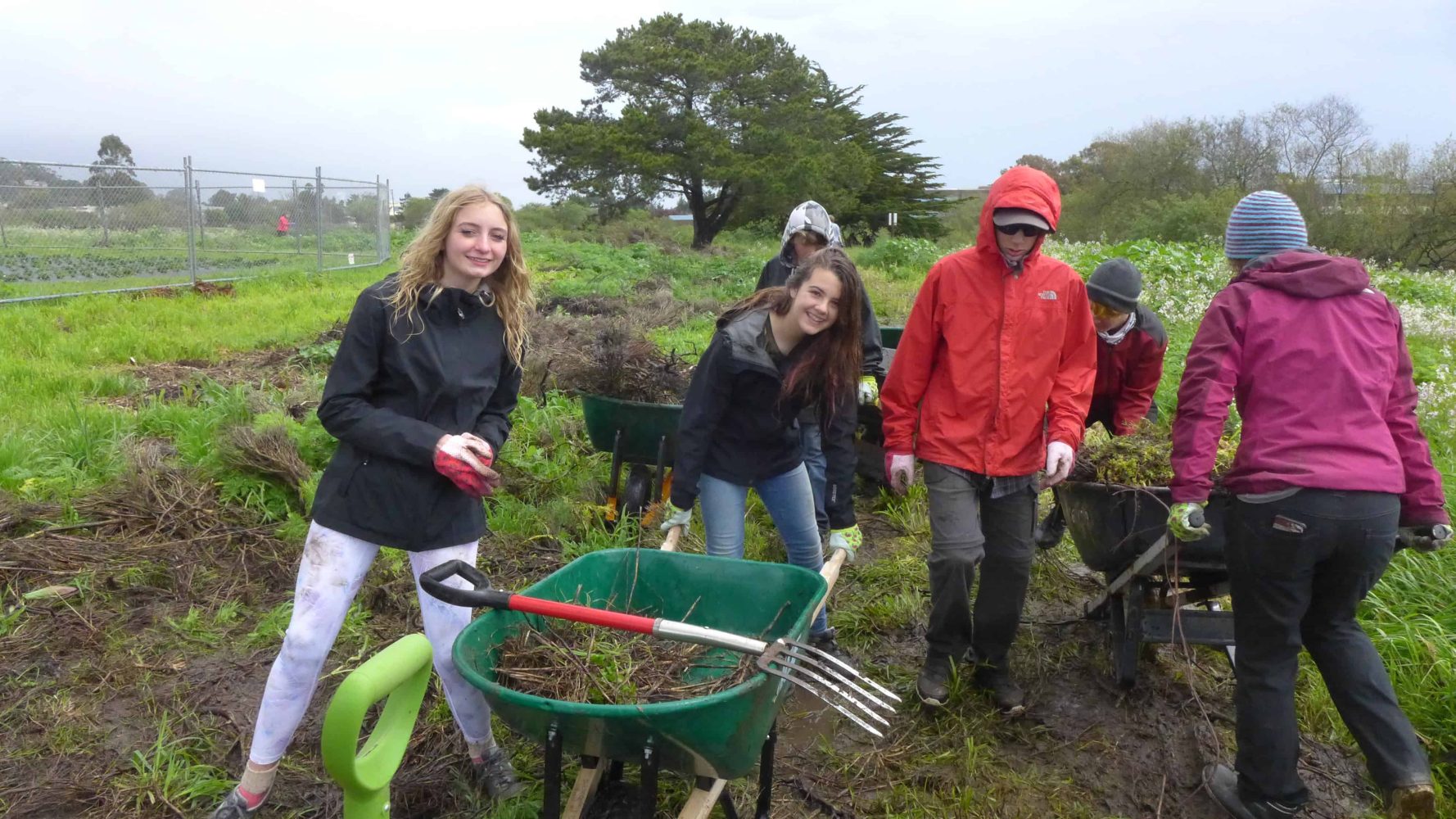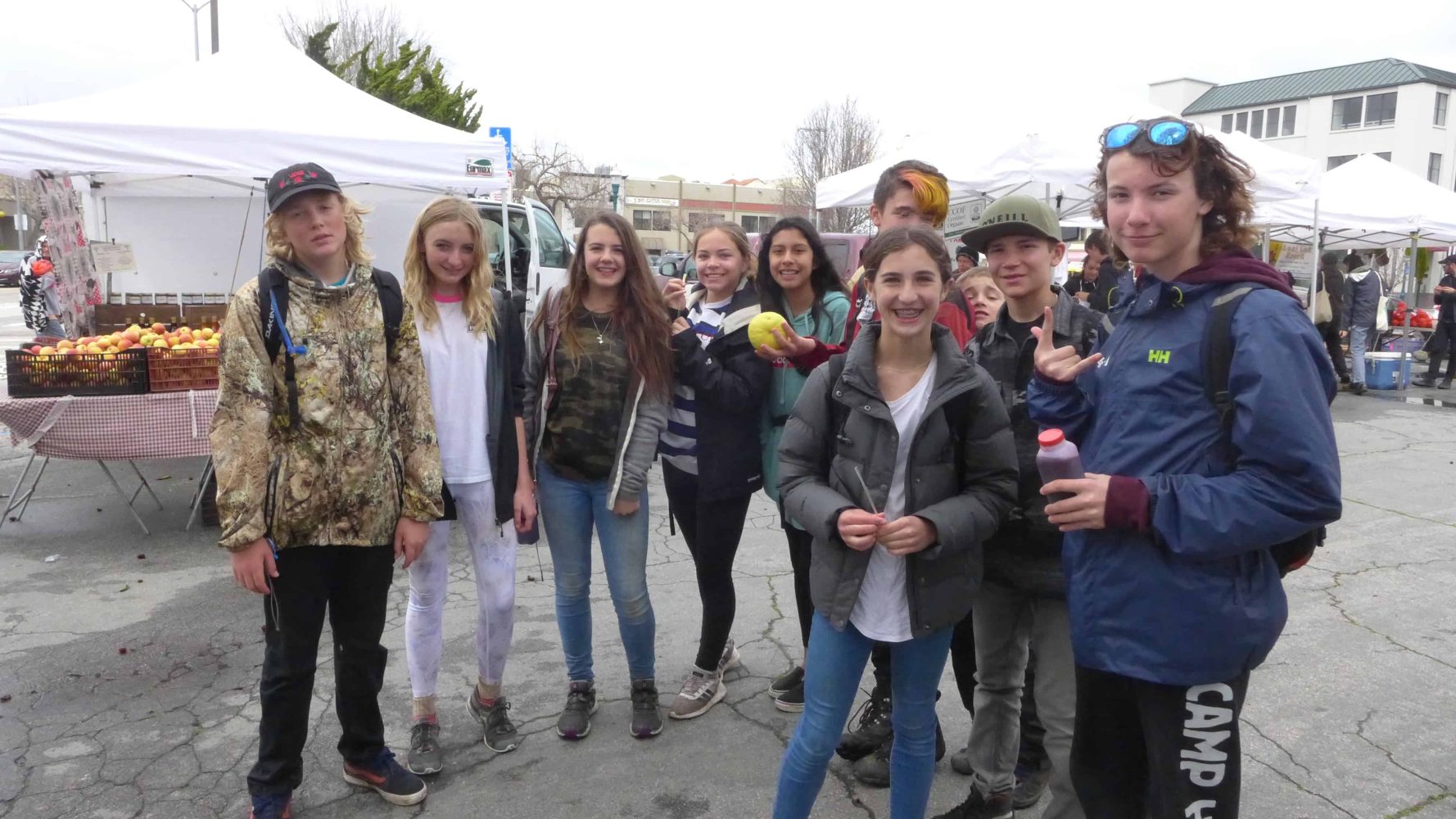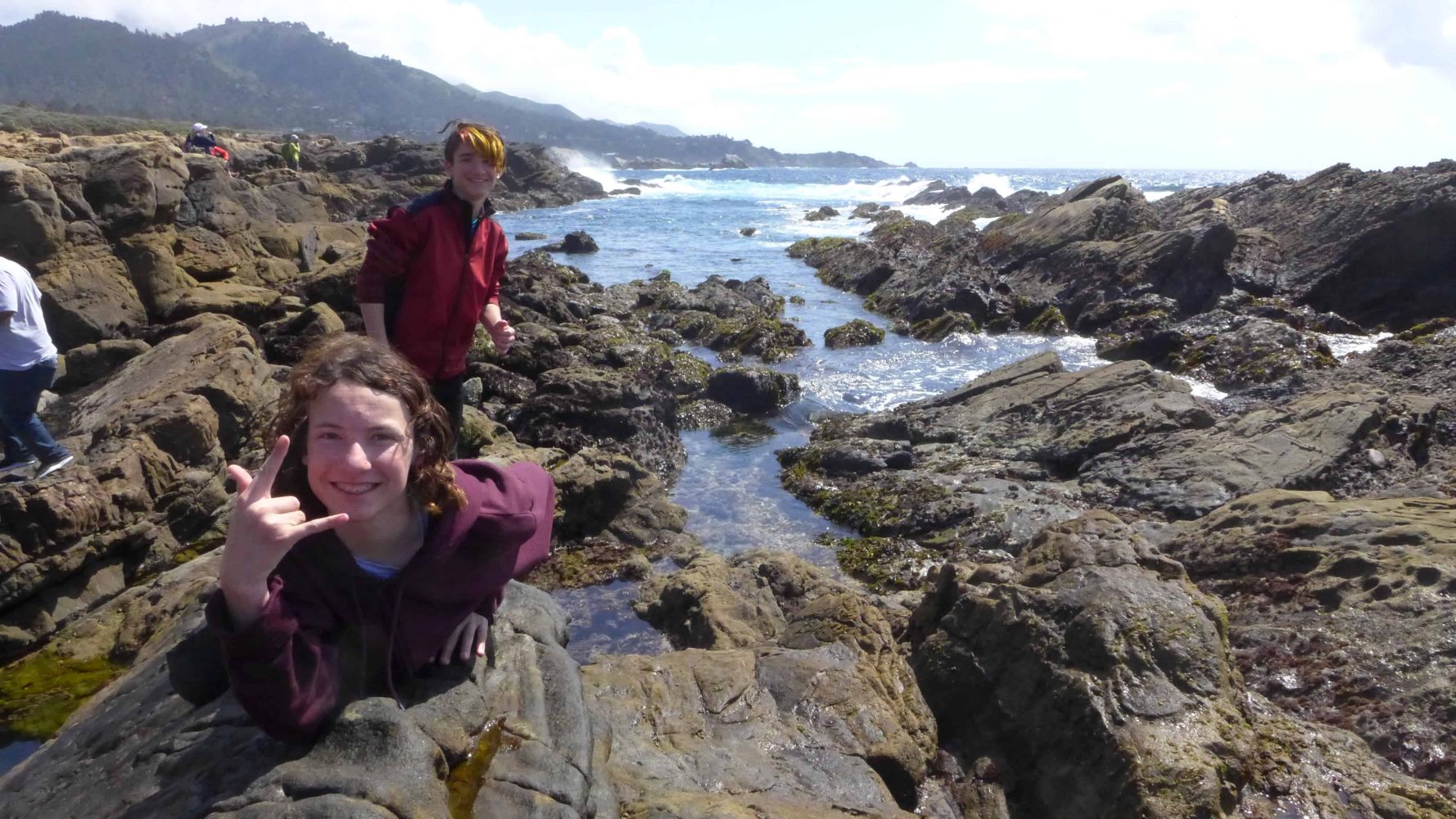 Through all of these experiences, they learned how it's important to hear and appreciate multiple sides of an argument.
Though these experiences, students grew by understanding that when they throw things away, it doesn't go to a magical place of "away". They grew by seeing a recycling plant first hand, and being exposed to the people who work there, and that all of that trash there actually goes into a landfill, or is sold. The trip impacted the students with the realization that their generation will be the ones dealing with irreversible environmental impacts created by previous generations.
This trip changed student perspective on homelessness, realizing that many people experience homelessness at different points in their lives. They also realized that many people are in jail because of mental health issues and that homelessness can be a result of a behavior or a situation.
The trip impacted the students' views on veganism/vegetarianism by understanding the benefits and drawbacks to a varied diet. Students also were inspired to look into having a large Santa Cruz- style farmers market here in Truckee. Many of them noted that Truckee Thursdays are geared toward tourists with art and wares– but that Santa Cruz had mostly fresh fruits and veggies.
And through all of these experiences, they learned how it's important to hear and appreciate multiple sides of an argument. And possibly the greatest learning of all was understanding the power of community, and how it can be a driving force in a changing world.