Urban Vibes: A TEA Middle School Investigation Into Homelessness on America's West Coast
Our Middle School students are spending their Spring Intensive diving in and getting real with gritty issues that impact all of us.
Students will be doing their May fieldwork in and around Sacramento and the Bay Area, investigating the factors and contributing causes to homelessness. While there, students will meet with non-profit organizations, community leaders, and historians– all experts in the realm of homelessness. They will learn how providers living in a region full of insufficient housing and inadequate services must make difficult choices in terms of allocating resources
But before they go on their learning adventure, students are first building background knowledge by studying the history of homelessness in America. They're looking at policy and practices put into place by the federal government from the time of the colonial period, urbanization, industrialization, the Great Depression, and today that have either helped or hindered the homelessness crisis.
This past week, these students used Reno as a case study for looking at what happens when people who are left behind by economic growth can't compete with young professionals. Historically, they might have found refuge in Reno's crumbling motels or tenement buildings, but with the city's growth and gentrification, many of these buildings will be lost in a spree of razing, building, evictions, and renovations. During their trip to Reno, students learned about Downtown Reno Partnership, a new private nonprofit business improvement district in Reno is working with businesses, property owners, residents, city and county government to make the core of the city cleaner, safer and friendlier.
Gentrification and homelessness was the main topic of conversation during their case study. They met with two gentlemen from the organization, Mike Higdon, the marketing manager at the Downtown Reno Partnership and Grant Denton, the operations manager leading DRP's Ambassador Team.
Grant, the operations manager leading the Ambassador Team, used to be homeless himself. He transparently shared his testimony with our students.
He was funny, personable, and above all real. It was hard not to be moved by his story, his passion for helping the marginalized and his gift interacting with our students. After a Q and A with Mike and Grant, Grant took the crew to a day shelter and women's shelter in downtown Reno. Little did we know that this was where he really came alive. Our students not only learned about and saw the reality of the homeless situation in Reno but got to witness Grant connect with, hug, and call by name these "friends." Grant then shared with us a few of their stories. It was great for our students to witness some of the ways in which the Ambassadors help those living on the streets.
Here is brief summary of what the ambassadors do as they work with Reno Police and City of Reno staff to accomplish four major tasks:
Cleaning: Ambassadors work with city staff to clean up graffiti, streets, weeds and snow.
Safety: Ambassadors patrol the district and communicate with police to help triage situations to reduce nuisance calls so police can focus on larger issues. Ambassadors offer personal escorts for people who feel uncomfortable walking from place to place.
Social outreach: Ambassadors help homeless people find supportive services, while also engaging with those chronically sleeping on private property. StreetPlus also employs licensed social workers to build relationships with transient populations who need additional help.
Hospitality: The ambassadors can engage with visitors and tourists who need help finding activities, directions or information about downtown Reno. They will also add an additional layer of help during large downtown events.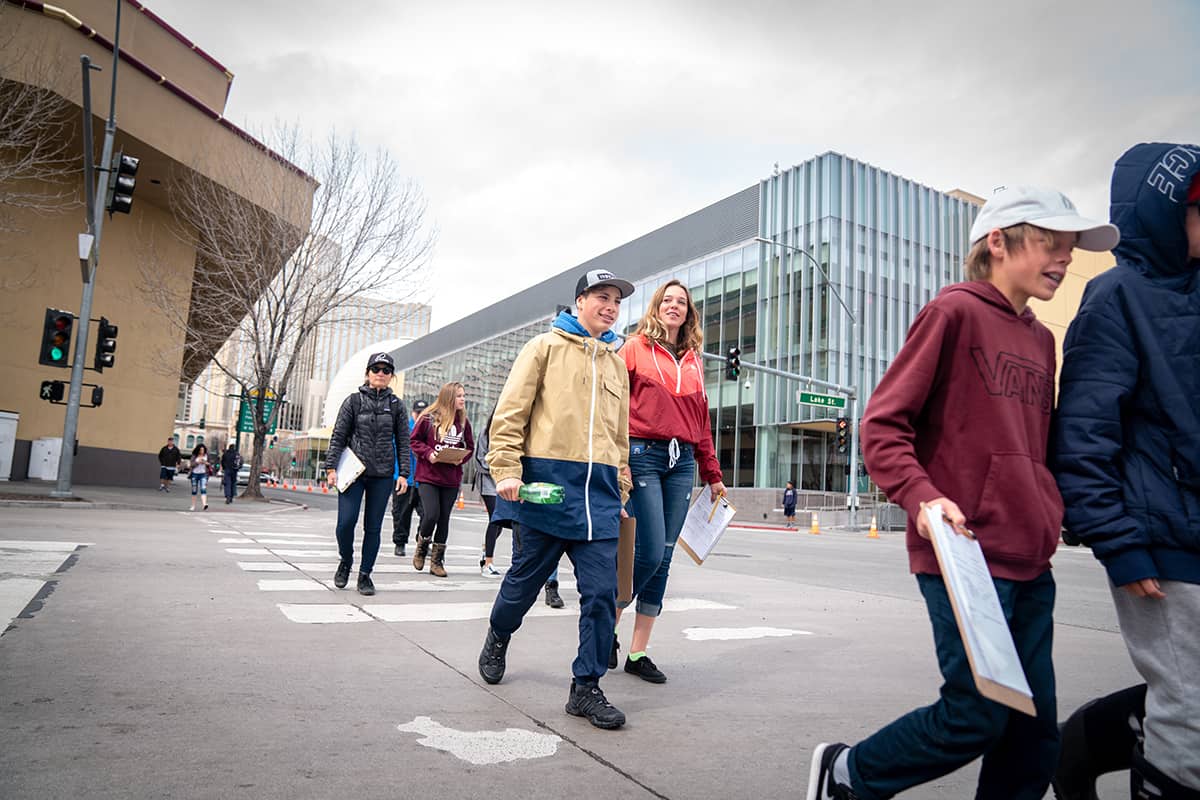 Thank you to our Middle School Beth Vallarino for leading our students on this very real-world intensive. And an extra special thank you to our TEA Parent photographers for capturing the moments for us to share. Our goal is grow awareness of this issue, and your photos and words help us to just that.