Middle and High School Students Engage With Real-World Scientists
Getting out of the classroom and into the field is a key component to our programs at TEA
From collecting water samples in Martis Valley to birding in the Lower Carpenter Valley this past week, our teachers wasted no time in taking our Middle and High School students into the field to engage with real-world science projects.
Here's a quick look at the work being done. Each time the students venture into the field, we will share stories from there experiences on this newsletter, our blog, and our social media feeds.
Middle School Field Science
MS students spent the day engaging in citizen science by collecting water samples in the Martis Valley area. Each crew was able to visit 4 different sites where they took (3) different samples to collect real-world data to submit to 34 North. Students were also able to collect water samples from the Truckee River. The Middle School crew collected 52 data samples for analysis. Ask your student how it felt to engage in real-world science in the field.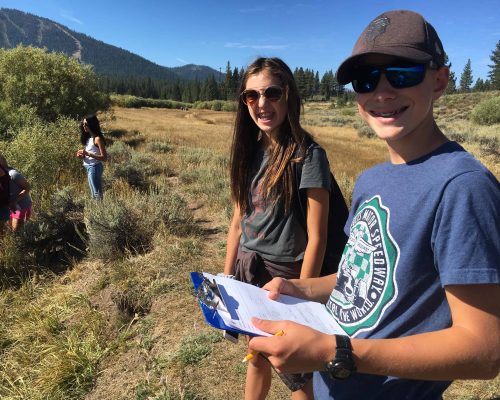 High School Biology Field Science
Biology went Birding! To begin discussing Unity and Diversity through a biological lens, we went to Lower Carpenter Valley. Lower Carpenter Valley has been private land until 2017 when it was acquired by Truckee Donner Land Trust. This area of pristine natural habitat has been undisturbed for nearly 100 years! We hiked in with the goal of identifying as many species of bird as possible. We then discussed what qualities define a species, and how scientists categorize living animals. Students then began to discuss similarities and differences in humans and the social implications of these traits.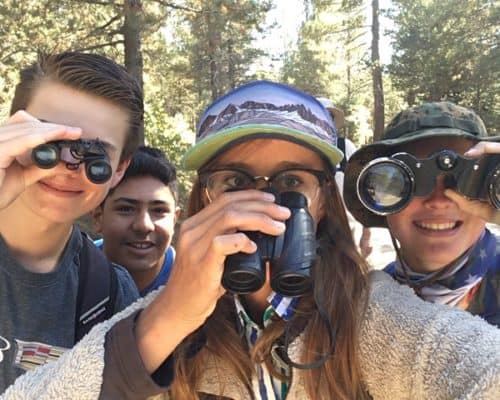 High School Physical Science Field Science
On the Sierra Nevada College Campus we met with representatives of the UC Davis TERC (Tahoe Environmental Research Center). Besides learning about the history of Lake Tahoe and what makes up the Tahoe Watershed, we focused in particular on how to systematically monitor streams, and why monitoring streams are important. Students then took measurements of temperature, conductivity, dissolved oxygen and pH as well as testing hypotheses about the overall health of streams in Incline Village, NV. Finally, we took inventory of stoneflies and mayflies by putting sediment into suspensions upstream and collecting it downstream to pick through to find these MACROINVERTEBRATES.