Blackbaud Student Information System Parent Tutorial
What is Blackbaud Used For?
Blackbaud is a Student Information System widely used by schools across the world. It is a robust platform that allows for secure storage and sharing of information. It also contains your student(s) schedules, attendance records, and faculty/staff contact information. Additionally for our Middle and Upper School families, Blackbaud is home to grading, assignments, course agendas and sillibi. This webpage is intended to be an ongoing knowledge-base that is specific to the ways in which we use Blackbaud at TEA. If you have a question not addressed here or an idea for something we could/should add, please contact our Communication Director Greg Wright at gwright@tea-mail.org.
Top 5 Blackbaud Tips for Parents of All Grades
1 – Portal View
Once you have logged into Blackbaud, you will see a menu similar to this. Note if you have multiple students at TEA, you can use the drop down in the top left to toggle between your students. Besides the student option, we are not yet using Groups, Resources, and News in this main menu. Note if there is a form that we need for you to complete, you will see a notification below your student's name that will read "You Have 1 Form to Complete." When this alert is visible, please click the link and complete the form.

2 – Student Menu
Once you've selected your student, this menu will appear. For Middle and High School students, you will see additional options for grading / assignments. Under this section you will see a snapshot of attendance records and the student schedule.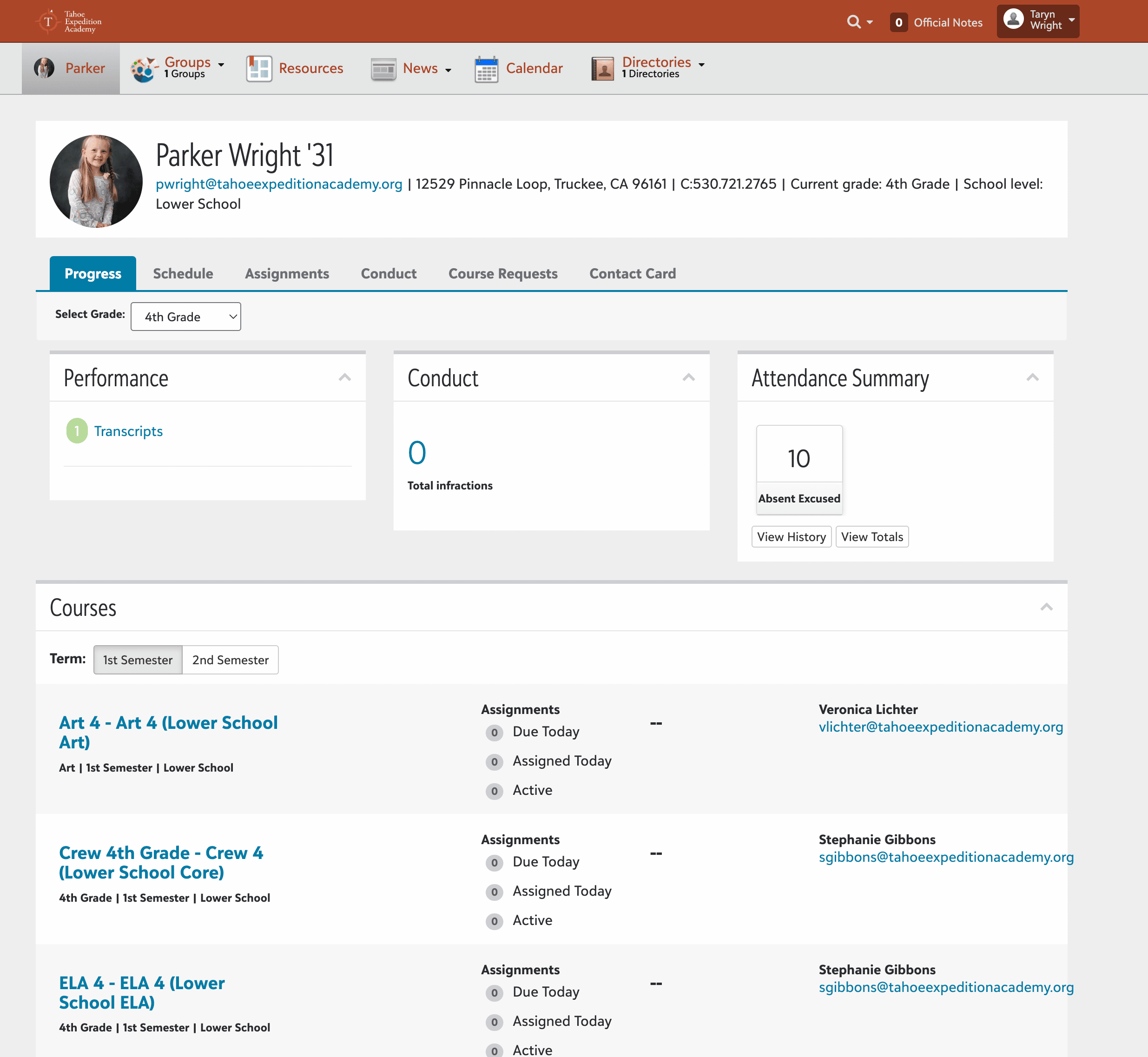 3 – Schedule View
Click this menu option to see a more detailed version of your student schedule. For our Elementary School students, this schedule is fairly generic and may not be specific to your student's daily coursework, but it is a good representation. For our Middle and High school students, you will see the unique courses and times by day.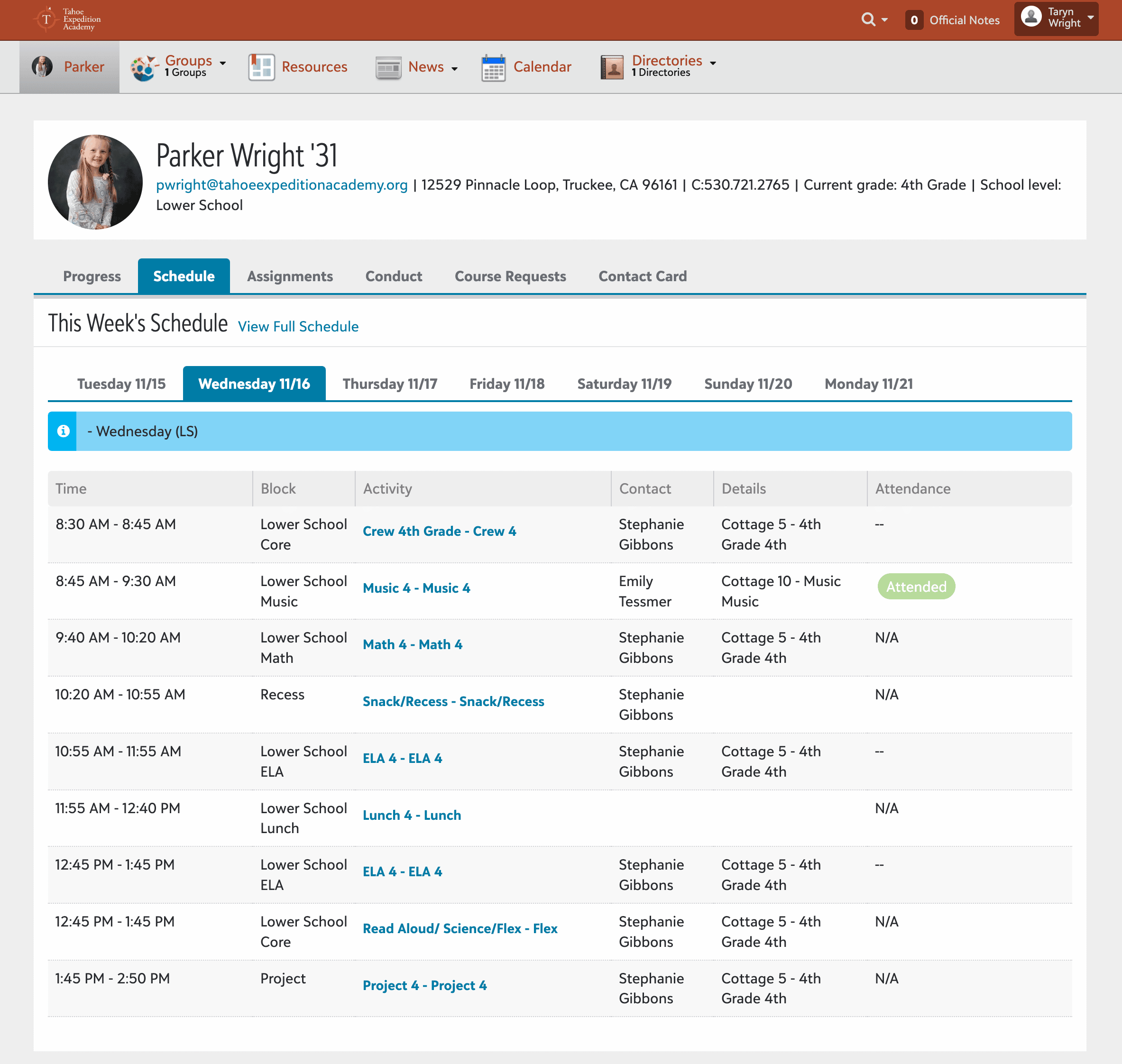 4 – Contact Card
This is the contact information we have on file for your student(s) based on the information we received during the application process. If you have any household changes, this is the location to make them.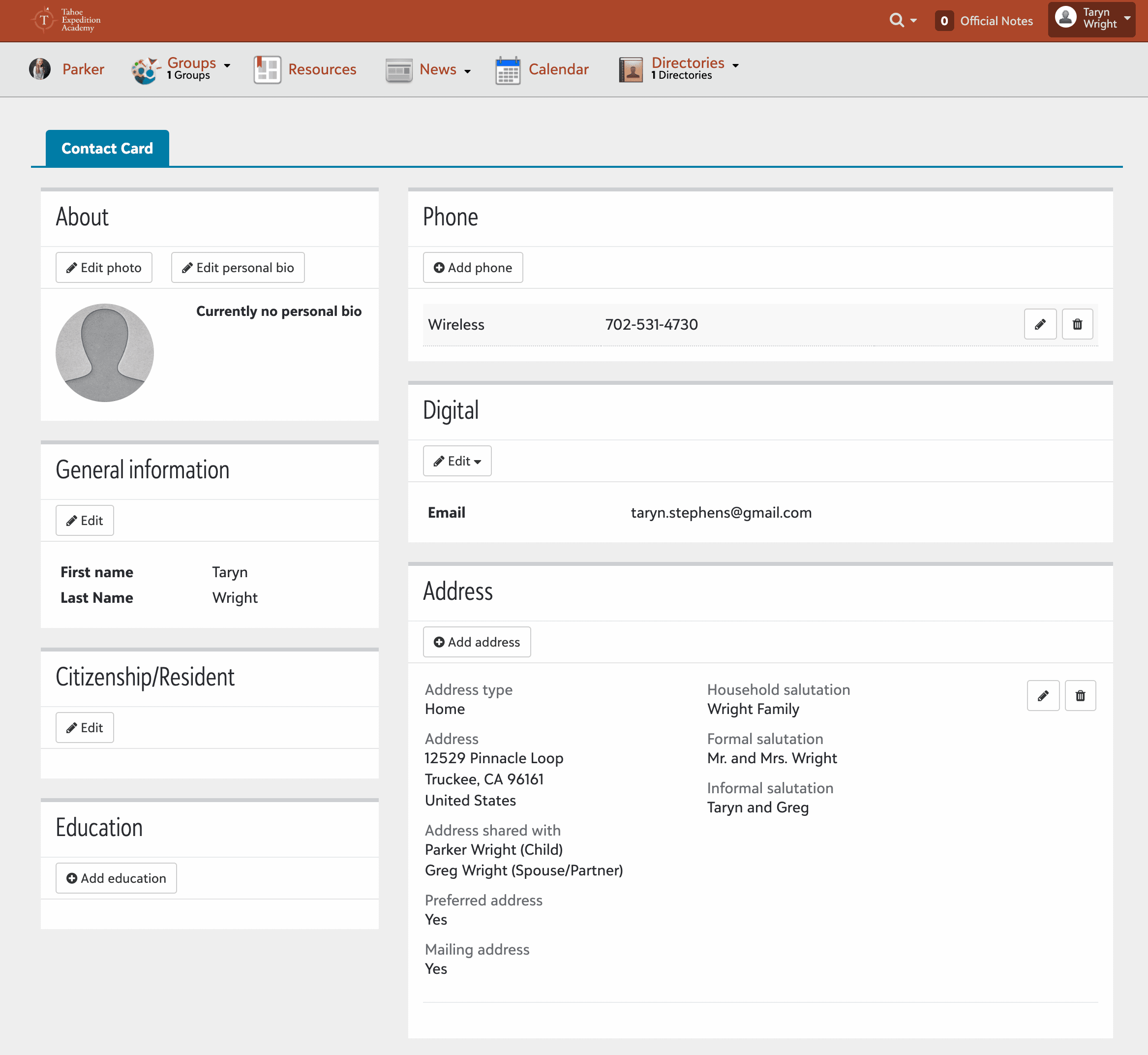 5 – Files and Forms
On the top right near your name you can access a drop down menu. There you can find a link to the files and forms you have completed (enrollment agreements, field trip waivers, etc). Again you will see a notification by your student(s) name on the top left when there is a form for you to complete.
Important Items to Note
Agreements and Releases at TEA
Our enrollment agreements and fieldwork liability releases do need to be completed by all legal parent/guardians before they are completed. If you have had any changes to your household situation, please contact our administration team at administration@tea-mail.org
Questions?
If you have any questions or issues with Blackbaud, please contact our administration team at administration@tea-mail.org. We are here to help!