TEA Biathletes Finish the 2017/18 Season on the Podium
Two hundred years ago the sport of biathlon began as a Norwegian military exercise.
Back then, military ski contests were divided into competitions like shooting marks while skiing at top speed, downhill ski racing, and long-range endurance skiing with a military pack and rifle. Flash forward a few centuries, biathlon is a now hi-tech sport built on carbon fiber technology, hyper groomed trails, and the latest ski wax trends. Biathlon is uniquely challenging; a blend of hyper endurance, marksmanship, and mental toughness.
This winter, THIRTY dedicated Tahoe Expedition Academy student-athletes experienced the thrills of biathlon first hand. Members ranged in age from nine to seventeen years old, the TEAm divided into a Devo group and Comp group for specialized and differentiated training. This season the TEAm included eager 4th graders, which resulted in the largest and most stoked team of all time. We are one of the few schools in the Sierras that fields a Biathlon team – in fact, 2018 marked our sixth competitive season.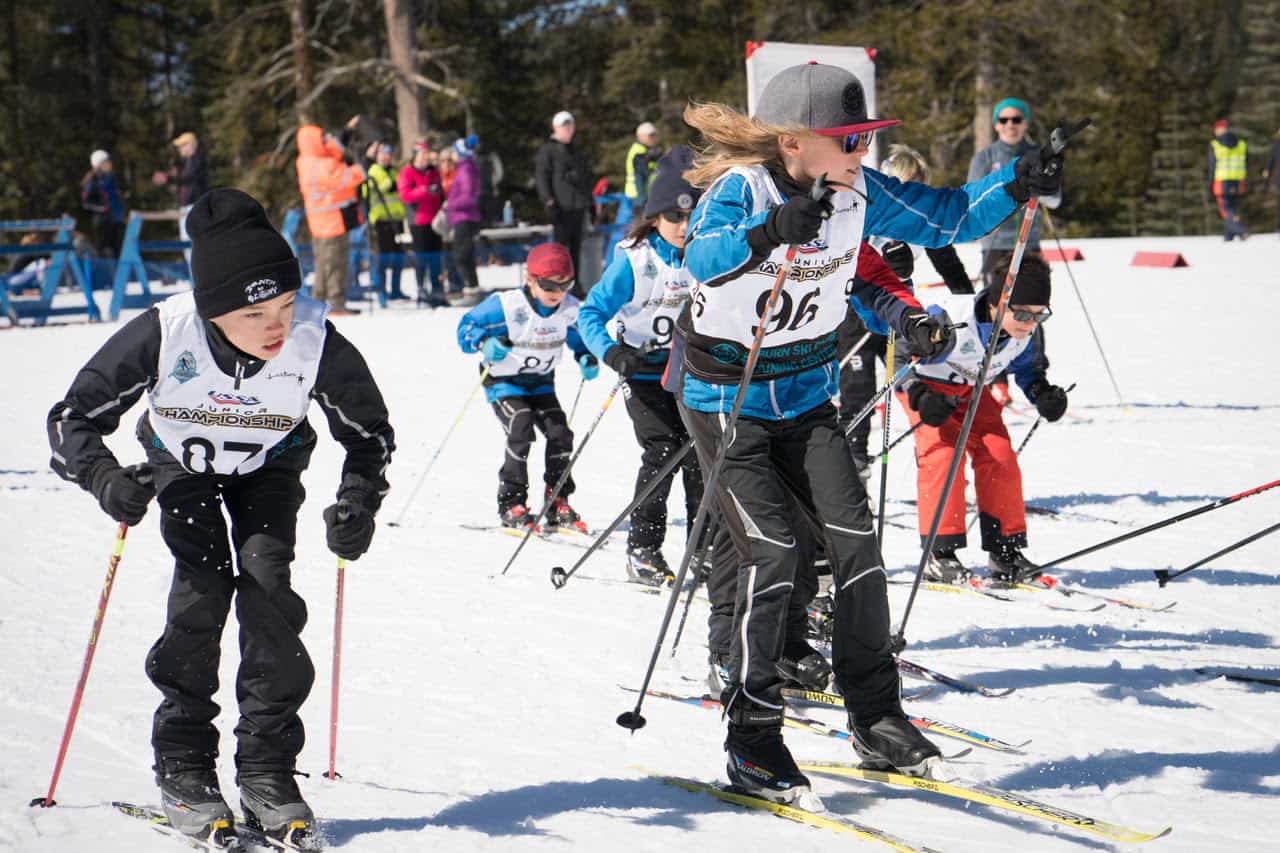 Dedicated student-athletes trained three times per week.
Mondays and Tuesdays were spent on skis building endurance, technique and resolve. On Wednesdays, biathletes honed marksmanship skills and utilized FBI level gun safety at Auburn Ski Club (ASC) on Donner Summit.
At Auburn Ski Club, student-athletes train with past Olympian Glenn Jobe (the godfather of Biathlon in the Western US), Collegiate National Champions, and a host of other coaches.
To begin each the session, students ski a few kilometers to elevate heart rates, then ski into the range. In the prone position, biathletes shoot .22 caliber rifles at small two – four-inch targets 50 meters out. Conditions were at times brutal, as howling, cold winds make skiing and shooting as challenging as ever. It's important to highlight that TEA student-athletes learn and practice explicit gun safety under the watchful, expert supervision of Biathlon range masters and FBI trained coaches.
"Learning about gun safety is not something I would have given to my sons and now I see this unique access via biathlon as a great gift,"
says Rick Chapman, TEA Parent, whose two sons are on the team. "When you watch a race or practice, you see the incredible support given by volunteers to teach and help the kids with the rifles. And the concentration the kids have when shooting is palpable. Combine shooting with skate skiing, one of the most challenging endurance sports, and you have something quite unique which requires discipline, focus, and hard work."
When not competing in biathlon, middle and high school students race in Nordic Skate Ski events locally against a field of 300+ peers. 7th grader, Logan Selander, finished 4th in the 2018 CNISSF Middle School State Championships held in February. He's the fastest 7th grader in California and Nevada – impressive!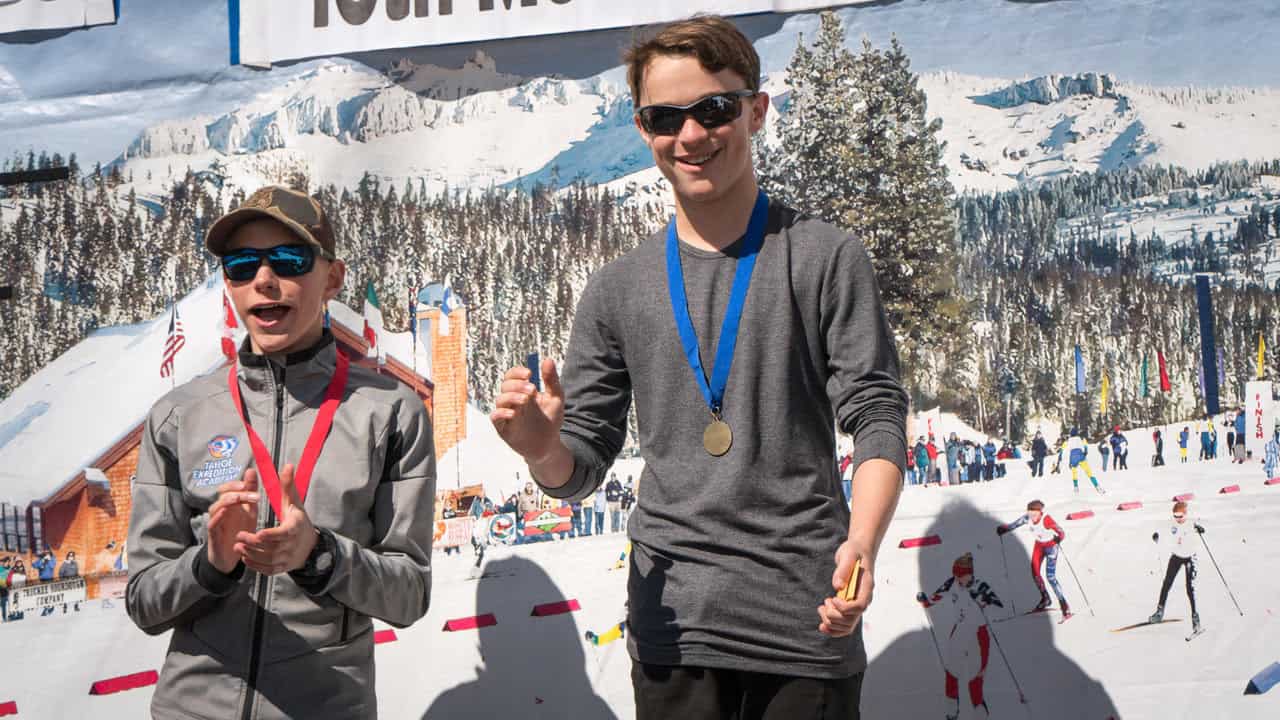 The biathlon season ended March 11th, when biathletes, coaches and spectators enjoyed bluebird conditions, light winds and fast, corduroy Auburn Ski Club trails. Our biathletes starred against the competition, Sadie Tucker and Tailor Knight finished 2nd and 3rd respectively in the super a challenging Novice Race. Which featured three 1.5km laps in steep, alpine terrain, with shooting range sessions between. On the same course, Jack Loughan, Logan Selander, Tom Schmenk and Ty Chapman placed 1st thru 4th. The shorter, Youth Race had Rowen Chapman finish first, and Pierce Bolen third, while other exuberant biathletes finished close behind. Despite the final position ALL were stoked on a successful race and a much-deserved reprieve from skate skiing.
It was a great season. A HUGE thank you to Glenn Jobe and his team of committed experts who were both gracious and serious instructors. Another HUGE thank you to our volunteer coaches David Schmenk and Jamie Hadden, who were reminded just how challenging it is to work with 4th graders :-).