Tesla: Undisclosed
We were about to get a sneak peak into the Tesla Gigafactory to learn more about how this forward-thinking company is combating climate change one battery at a time.
Our students at TEA were given the opportunity to tour Tesla's new Gigafactory. With tours not even open to the public yet, our students were wide eyed and eager to pursue questions and learning with the master minds behind this historical movement. Talking with Tesla engineers and factory supervisors, our students at TEA were left inspired and motivated to act on climate change. Before we spoil too much of the story, here is a re-cap on what went down.
At the guard station just outside of Sparks, NV, I was handed our Tesla visitor passes. I gave them out to our 22 students, who quickly adorned them with pride, as we headed down the newly and aptly named Electric Ave. We were about to get a sneak peak into the Tesla Gigafactory to learn more about how this forward-thinking company is combating climate change one battery at a time.
As we drove toward the mega building, which is on track to becoming one of the largest buildings in the world, our anticipations piqued. Was this REALLY happening?
Kevin, our guide and teacher for the day, met us near the electric car charging stations. He had on a black and red jacket with the Tesla logo embroidered on the chest and sleeve. He told us the jacket was made for a coast to coast race in a Tesla car powered by electricity. He had a smile on his face, as he brought us inside a small lobby and said, this room will not be here in 6 months. It will be over there, as he pointed about ¼ mile to the north.
Inside this temporary lobby was a Tesla car chassis, a Power Wall battery pack and a topo map of the building plan which lay beneath a huge flat screen TV with looping photos taken by a drone of the Gigafactory. We learned that the mega-building we were now inside was only about 1/6th of the size at the final build out. Was this REAL?
As we moved to the inner workings of the building, we were issued hard hats, fluorescent vests and safety goggles. We were also asked to turn off all phones and cameras. What we saw for the next 90 minutes truly blew our minds. Due to Tesla's policies, we cannot tell you what exactly we saw. But, we can tell you why it blew our minds and why Tesla is building the largest battery factory in the world.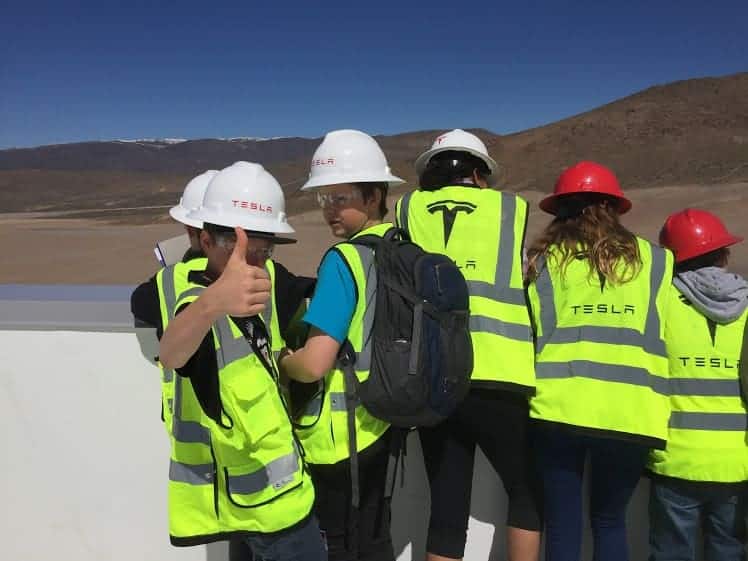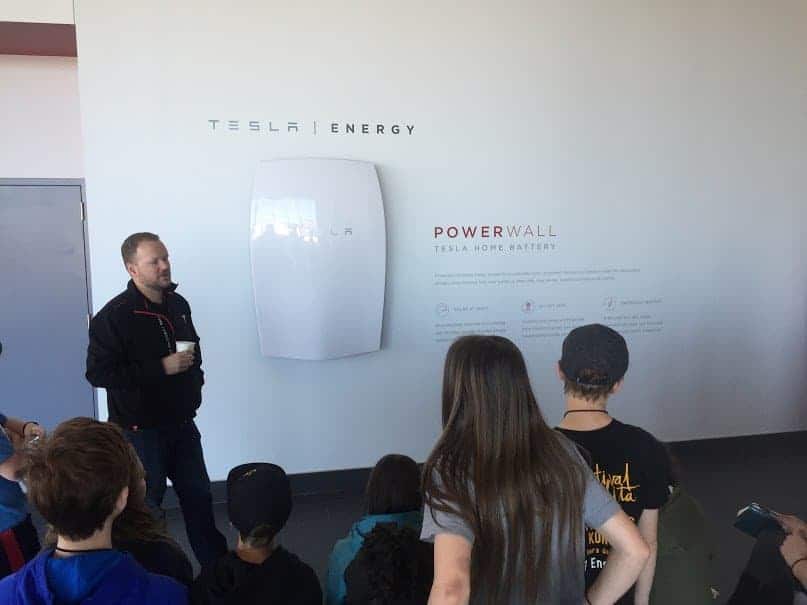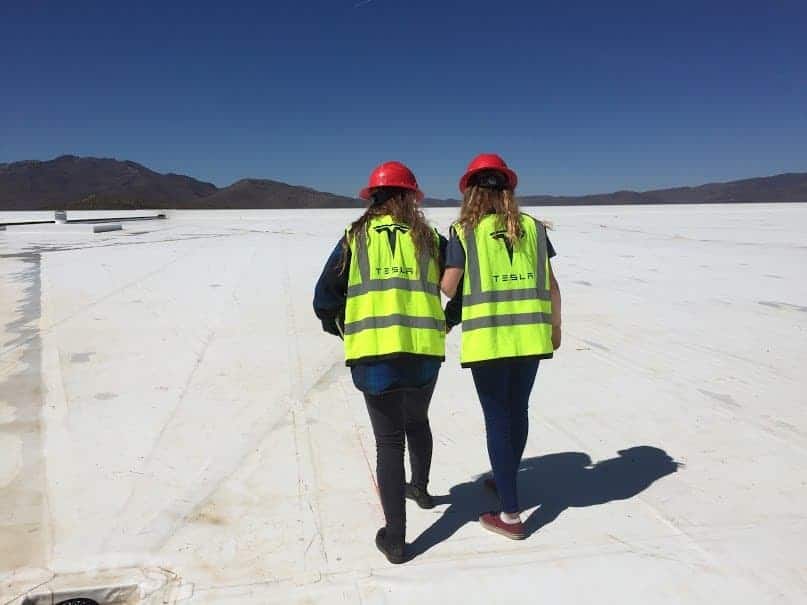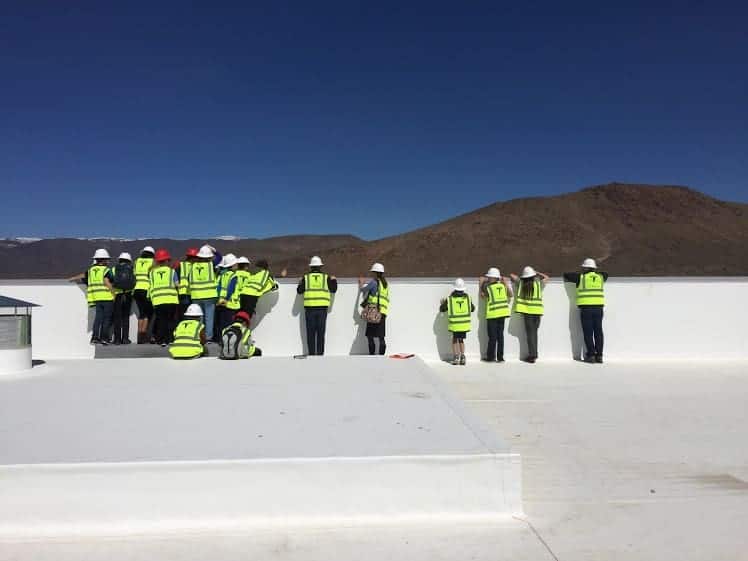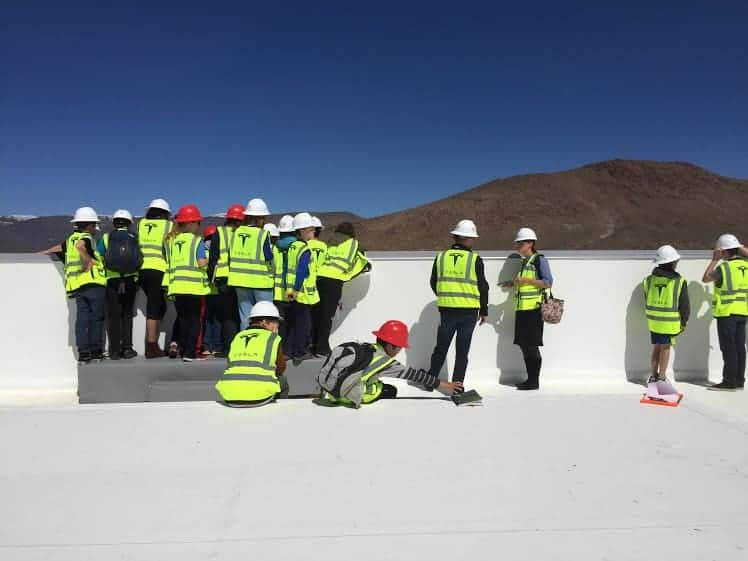 Tesla is indeed combating climate change and changing the way we think about, harness, and use energy. They are creating a social movement to effect positive change for our environment and ultimately our economy. Tesla is leading by example and applying new technologies at scale that are already having positive ripple effects across the globe.
Throughout the day, our students asked questions about manufacturing capacity, technology advancements like robots and the future of Tesla. In doing so, they learned about Tesla's philosophy and mission. And they discovered the reason why Kevin had a smile on his face the entire time we were there was because he is proud of the work he and his team are doing. He is proud of the company's desire to change the world for the better. He is proud to give these students a sneak peak into the future.
The future matters to our students. They are constantly imagining new ways of living, of being, of learning. Our students incessantly want to create and make tangible their experiences by taking home their ideas and making something out of what they learned. This is not just a walk in the park for them, this is a mind stirring, idea churning experience that will propel them forward into creations of their own that will positively impact the world around them, and the worlds within them. All day the entire crew was engaged and connected to what was being shared. This is what experiential learning with purpose looks like. This is what truly makes an impact, when young minds spark together and possibilities are born.
After this one-of-a-kind academic adventure, I asked the students the following question: Now that you have visited Box, Google, and Tesla, three of the most influential and well-known tech companies in the world, now that you have learned about what each company does and why they do it, where would you like to work?
Hands down, the # 1 answer was Tesla. Apparently, like Kevin and his team, our students also want to impact the world for the better, the economy for the better, the environment for the better, and the human species for the better, one battery pack at a time.