Lost Coast Trail – Learning How to Push Through Hard Things
What lessons can we learn and take away from working through challenging situations?
In early March, the 8th-Grade students traveled to California's Lost Coast. They embarked on a 26 mile backpacking trip, and worked together to persevere through physically challenging and demanding situations. While much of the trip focused on the physical aspect, we asked questions like: How and why would we push through hard things? What lessons can we learn and take away from working through challenging situations?
The academic focus of the trip honed in on aspects of travel writing. How do we write in a way that weaves in an emotional and physical aspect of an experience? How do we shed light on our personal perspective when experiencing a place?
Please read the perspective from two 8th grade students below.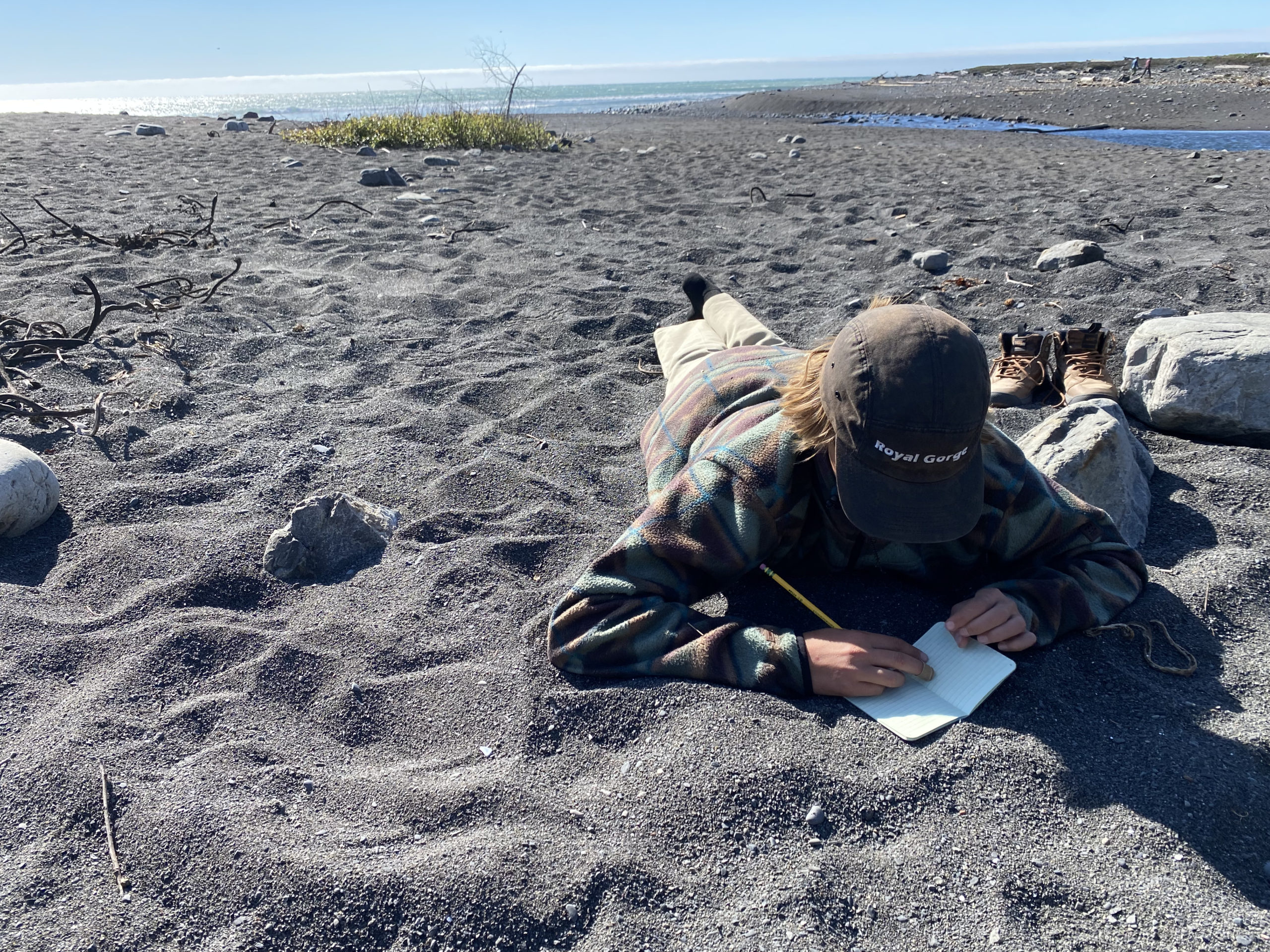 Student Perspective #1
The Lost Coast – Travel Writing
Where and what is the Lost Coast? Is the pain of hiking 26 miles worth the beautiful views? Do you have what it takes to make this amazing trek?
By Zander W.
March 16, 2022
The Lost Coast Trail is an incredibly beautiful, mostly undeveloped strip of the California coast and was named the Lost Coast after a depopulation in 1930. This immaculate trail runs from Mattole campground to Black Sands Beach near Shelter Cove. This extraordinary adventure covers 26-miles of beautiful beach and extraordinary dirt hiking trails.
Flora/Fauna
The incredible Lost Coast trails are littered with wildlife ranging from small starfish to enormous bull elephant seals. Nothing, I mean nothing, will wake you up more than a two ton elephant seal sleeping on the hiking trail. And nothing can put you to sleep faster than the sound of crickets as you doze off in your warm tent. Even with the vast array of incredible wildlife, there is nothing more beautiful than the sight of a field full of California's golden poppies. And with meadows filled with all sorts of extraordinary flowers, it sure makes this 26-mile trip one of the most beautiful in the United States.
But it's not all sunshine and rainbows. While the Lost Coast trail is beautiful it does have its fair share of dangers. You better have had your coffee because if you are not careful you might just step on a bull elephant seal sleeping in the trail and if you are awake enough to notice the seal. You need to tread lightly in the light brush and grass that line the path because you definitely do not want a tick burrowing into your skin. Also it's probably best if you avoid drift wood because it would be terribly unfortunate if you had to be helicopter evacuated because of a rattlesnake bite. But it's not all that bad with a jaw dropping combination of colorful sea stars, cute sea otters frolicking on the beach, and the beautiful poppies blooming on the hillsides. It truly makes the diverse plants and animals a highlight on this fantastic trail.
View and Scenery
With the five thirty wake ups to cross the ever fluctuating tidal zones. The welcoming sight of the sun just beginning to peek over the crest of the mountains never seemed so magical, and with the sky filled with orange light illuminating all that lay before it. This truly majestic sight, coupled with the sound of waves crashing against the beach, can make every morning the most beautiful you have ever seen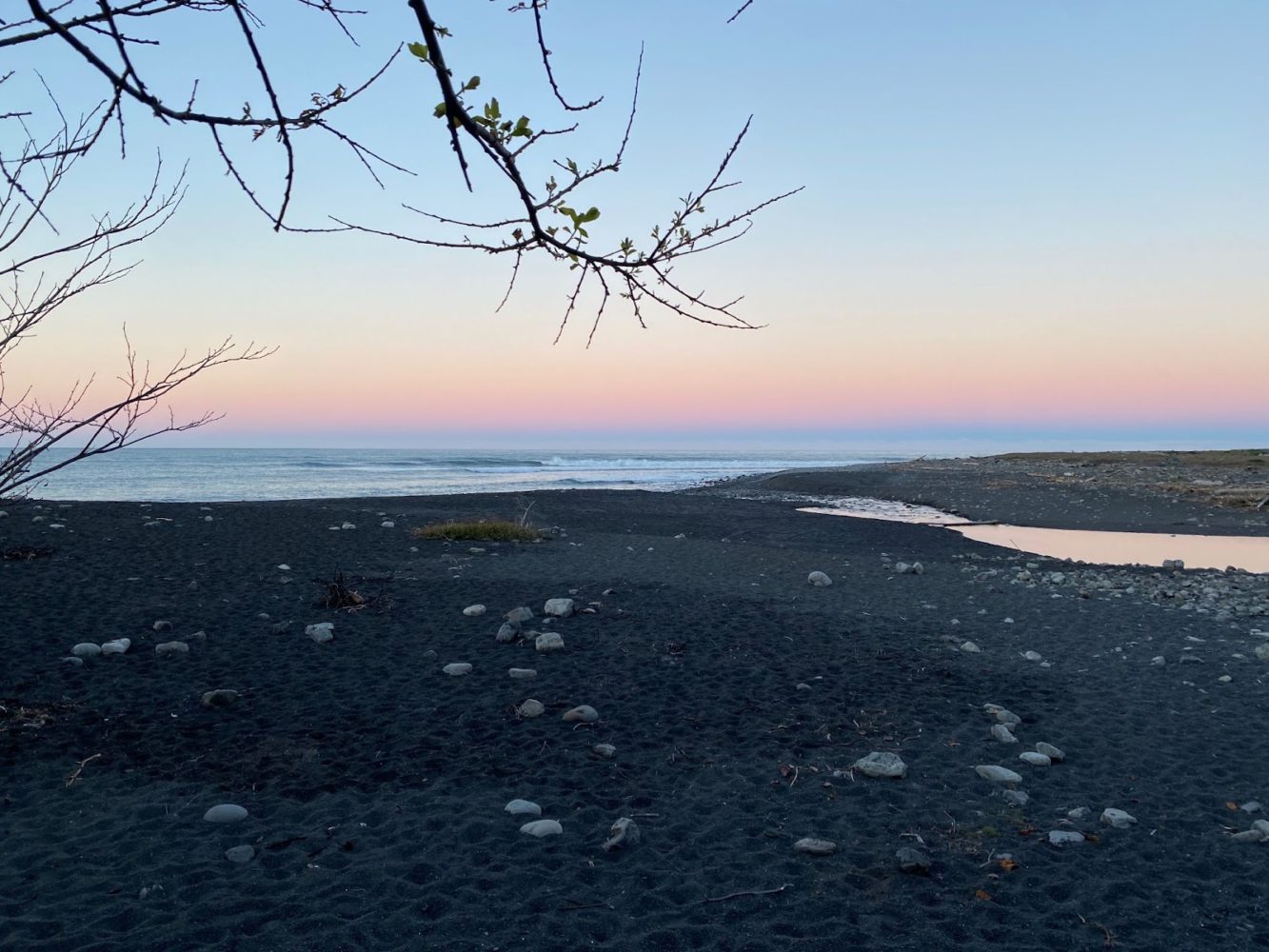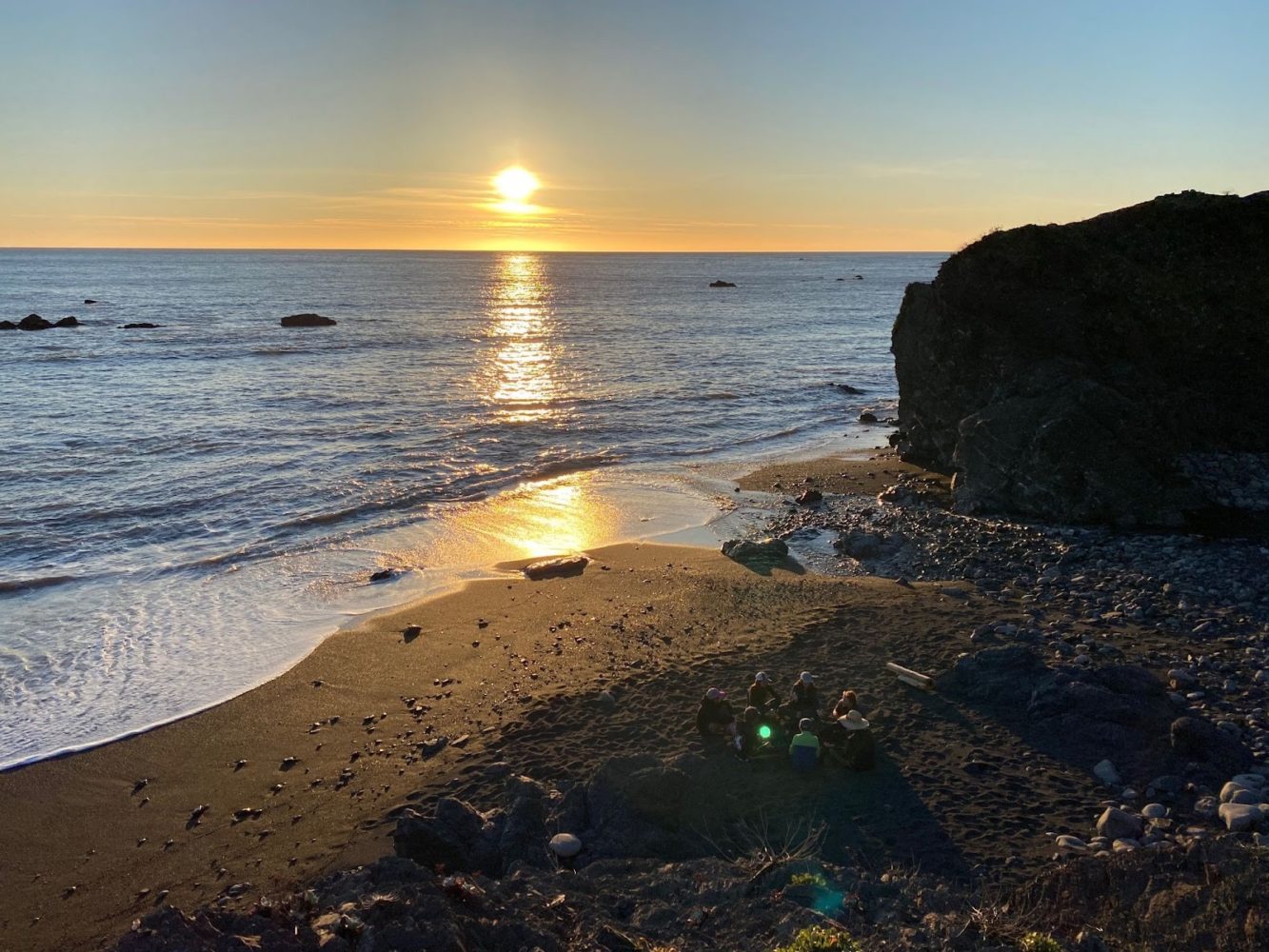 Things You Need To Bring
The Lost Coast brings a wide array of different terrains to the table, so when packing for this trip there are a lot of logistics you have to take into consideration, because of the long days in the sun, it is absolutely crucial that you pack the necessary amount of sunscreen so that you can profusely lather it on yourself as the day goes on. Necessity number two, water is essential when facing a day in the heat in order to keep hydration up. Even though there are parts of the year at lost coast that are beautiful and sunny, there are also others where it is rainy and foggy during these times. It is very beneficial to bring rain jackets and extra layers to stay warm during the cold mornings. Because you can never be too prepared.
Tide Zones
Though the tidal zones do incorporate beautiful and spectacular views, what I believe to be the most dangerous and incriminating hazard that the Lost Coast Trail has to offer is the ever-flowing and ever-changing tide zones. These tide zones force you to change your entire hiking schedule around when they open up and when they close and when you are able to cross you must be wary of the slippery rocks and waves that might sneak up from behind.
Food Management
While backpacking, it is crucial to pack enough food and water to stay hydrated and nourished for the duration of the trip. Keep in mind however, that while making sure that you pack enough food for the trip you must pack lightly because when traveling in the backcountry its best to keep all food inside a Bear Canister. Because packing frivolously is key, it's best to include meals that have a lot of protein like salami and cheese tortilla wraps or a beef jerky and cheese combination for lunch will be the perfect thing to tide you through the day. Oatmeal for breakfast is going to be crucial for a kickstart in the morning, and beans and cheese tacos/burritos combination will be just perfect after a long day of grilling hiking.
Best Camping Spot
There are so many beautiful campsites along the lost coast trail. But there are a lot of different factors that go into a good campsite other than the view like wind protection, rivers or freshwater nearby for filtering and areas of dirt for you to set up a campsite. These next campsites I'm going to list include all of the above to make them my personal favorites. My favorite Campground is by far Randall Creek. This Campground resides about eight and a half miles from the trailhead Intense many different amazing features such as beautiful campsites overlooking the vast ocean and sunsets. This Campground also provides a beautiful flowing stream to be able filter water. This camp site is also home to many different diverse plants and animals. Such as sea otters and a variety of different types of birds the hillside is also home to the california golden poppy. In my opinion, it is one of the most beautiful flowers in the world.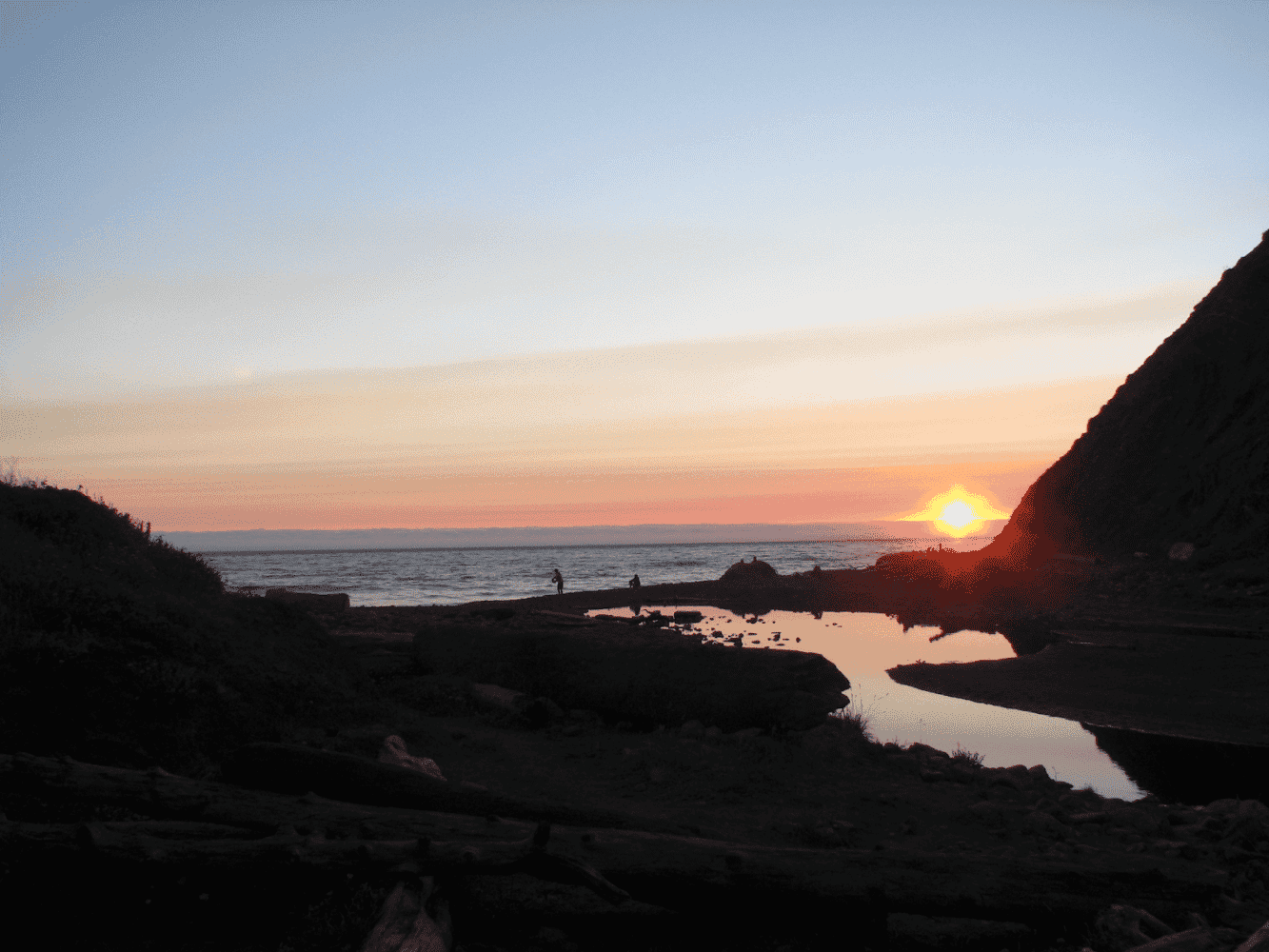 Conclusion
The Lost Coast trail is a very hard and physically demanding trail, the paths consist of gravel, sand and at some points large boulders that must be scrambled over. In retrospect after partaking in this incredible adventure I have come to the conclusion that even though your feet might hurt, and even though a lot of people might not be able to complete this hike because it is too physically demanding, but for me I believe that the pain is totally worth it. Just a feel like hiking through the rough sand, with the sun beating down on your back as your shirt is caked with sweat might give you the perception that you are not having fun but in reality pushing through the tough times to get to a better situation can sometimes be the most rewarding thing about a tough experience, because your body can do so much more than your mind can let it, and once you get past the part where you don't think you're having fun you might turn that difficult, grueling situation into the one of the highlights of your year. Because like I always say.
"Pain is just weakness leaving the body."
Student Perspective #2
The Bliss of Anticipation on the Lost Coast
The beauty in knowing you're having fun
By Ciaran P.
3/16/2022
Out of all the trips my school has offered me, I think this one was met with the most anticipation. In the weeks before the trip, talk of the sandy, rocky terrain, rapid tides, sea animals and high mileage. Training was highly encouraged, and bringing poles was a must. We were hiking the Lost Coast California. Nestled in the King Range Conservation area, this 24.6 mile stretch would push us farther than any camping trip before.
Now, looking back, I think I was very unprepared. The amount of backpacking trips I had been on was next to none, and to be honest, I still felt like I was coming at this with a full glass. The way things go with most camping trips is like this; hikers never see what any place or location is like until they are there. All information before arriving at the destination is from different people or sources. But when they show up, it all seems to fit together like some messed up puzzle and in the end you're glad you did it.
In many ways, that is exactly how this trip began. We began with a small bite of research before the course. As we gathered up tidbits from around the internet, all of us had a confident understanding of what we were about to delve into. But at the same time, we never knew what this trip could throw at us.
As we slowly made our descent through the lush wooded forests, we broke through and were immediately met with a soft sunset lighting up everything around us. After taking a moment to absorb everything, and another to grab some lost things, we set forward.
Now comes the most deterring part of hiking the Lost Coast. The terrain. As I started trudging through the sand, I quickly realized something. Not just the fact that I had forgotten my poles in the car at the end of the hike, but that walking through this stuff was the equivalent of walking on a stairmaster. Any step you make, hard or soft, will sink you down, and before you know it, all that weight stuck on your back makes a difference in balance. By the time we made it to the camping site, I was exhausted. Those two miles to the sandbar on Black Sands Beach felt like years of walking.
After a good night's sleep, I stepped out of my tent to a cool, temperate morning at 7:00am. The gritty cream cheese smeared onto a bagel feuling me for the oncoming sun. The salty air dried up my lips, and as we made our way further across the beaches, I came to the realization that wet sand was better to walk on than dry sand. It's more compact. The environments we were traversing through were very green. Trees placed precariously on cliffsides, water cascading against jagged rocks, shaving away their surface until smoothed over. It felt like some sort of safari.
As we passed through checkpoint after checkpoint, everyone felt pretty good in their ability, and we contemplated going even further than intended. This hike was a long one, and the last day would technically be the worse, sporting an 11 mile murderer, with two impassible zones. At that moment, we opted to continue on and make this day the 11 mile one. As we made more and more progress, the environment switched almost instantly from a relaxing temperate one to a desert. Dry sand and rocks heated from the sun, and rocks small enough to slip on but big enough to be forced to jump from one to the other. Walking became a task that needed every fiber of your being to focus on, and I was extremely lucky my friend let me borrow his poles. If I didn't take his, I would be hopeless, even left on the ground in pain.
As we stumbled into Big Creek campground, large swaths of rocks covered the floor, leaving not one spot bare for a comfortable back. While my tentmates struggled with placement, I took a short moment to loosen my muscles in the cold creek nearby. After my little moment there, I looked over to see our tent flying rapidly into the direction of the deep blue. I immediately bounded across the rocks to assist them, and after a bit of fiddling with the tent, I concluded that it was almost impossible to get it stuck in the ground. At this point most of my body was aching at every motion I made, so I just stuck a few heavy rocks on the corners and fell into the tent. As I entered I noticed the plethora of rocks and wood tipping the tent upwards. Nighttime soon blasted us with brutal winds, which made my idea of the rocks practically useless. Soon our tent was blowing like a balloon in the air.
That night was the worst experience I have ever had camping. When I kneeled down to peer into our tent, I saw Barett lying in between a jumbled mix of things, sleeping pads, and the ceiling of the tent violently puffing down onto our faces. Barett looked me directly into my eyes and said "I just want to forget this night ever happened". And without a word, we covered our faces with our bags and attempted a good night's sleep. The howling of the wind and the flapping of our tent hindered any chance of that, but we tried nonetheless.
At this point in time I found myself thinking of the trips I have been on before. Stories of blistering sunburns, poison oak, crunchy eggs, sweaty backs, and aching feet. I think within that dark, stressful tent, I was trying to justify it all.
The next morning was a quick one. As we bagan walking I was instantly hit with the winds, but what left me astounded was the view. Sunny environments were replaced with black sand beaches and burnt off trees. It felt like there should be some old undiscovered mechanical being left in the sand. As I was walking the fact that I didn't have poles hit me hard. The balanced cadence based way of walking helped me move with the group, and the pressure was on. Soon I felt exhausted, and a large hole had developed in the forehead section of my straw hat, letting the wind flow in. As we rounded more of those darkened ridges we met with the other group heading the opposite way.
The next section is dubbed "Ankle Breaker Beach" and for good reason. The sun started beating down on us. As we rounded the corner we were surprised to see the tide had created a running contour in the rocks to our right, and the terrain became essentially a jumping challenge. As I saw my friends climb up the ranks, I quickly fell behind. Near the end of the beach, my feet felt like they had been beat up. The feelings of dissatisfaction and pain grew to a tsunami, and I felt the weight of my situation slow me down. Quickly the pressure of the tide came real, and we quickly slipped through the remaining pathways into a crack in the mountain. After a short hike up the winding garden the climate had created, we made it to a small plateau teaming with beauty. We had a spectacular view of not only the jagged rocks clashing with the water, but the lush green fingers stretching into it. And thankfully, the wind was only a slight breeze.
On the last day, every one of us was thankful for the effort pushed out on day one. Only four miles remained and we quickly set out through the grassy slices of land towards the cars. When we descended from the green plateau we found a stretch with tons of seals lying down on the beach. While we all hunkered down for a snack and a good view at the seals we were able to see our first campsite from a perch atop a small lighthouse. I realized that despite the feelings of pain and unhappiness, I was enjoying every step of the way. The little details that I messed up weren't slowing me down, in a way they made me faster. Finding joy in the mind-boggling environments and foliage surrounding everything was enough to get me going.
That last walk to the car was full of feelings of satisfaction but also trite. When you have completed something for the first time, you know you can't ever feel that way again. The anticipation will always be better than the payload, and within the struggle I found a feeling I never felt before. And I don't know if I will ever feel that way again.
Please enjoy this photo gallery for more images from their trip!