Appreciating Achieve Tahoe for Hosting Our 1st-Graders
"There are so many ways to be a human being! We can celebrate these differences, be there to get to know each other and find the deep ways in which we are all the same."
Words and photos from Brenda Gants, 1st-Grade Crew Leader
I am so happy to share with you that we had a beautifully successful day with Achieve Tahoe. We learned so many lessons and made special new friends. We eased into the day together by learning about the 'differently-abled- community from our host, Scott Behrens. Then moved into our two group activities: archery and hiking.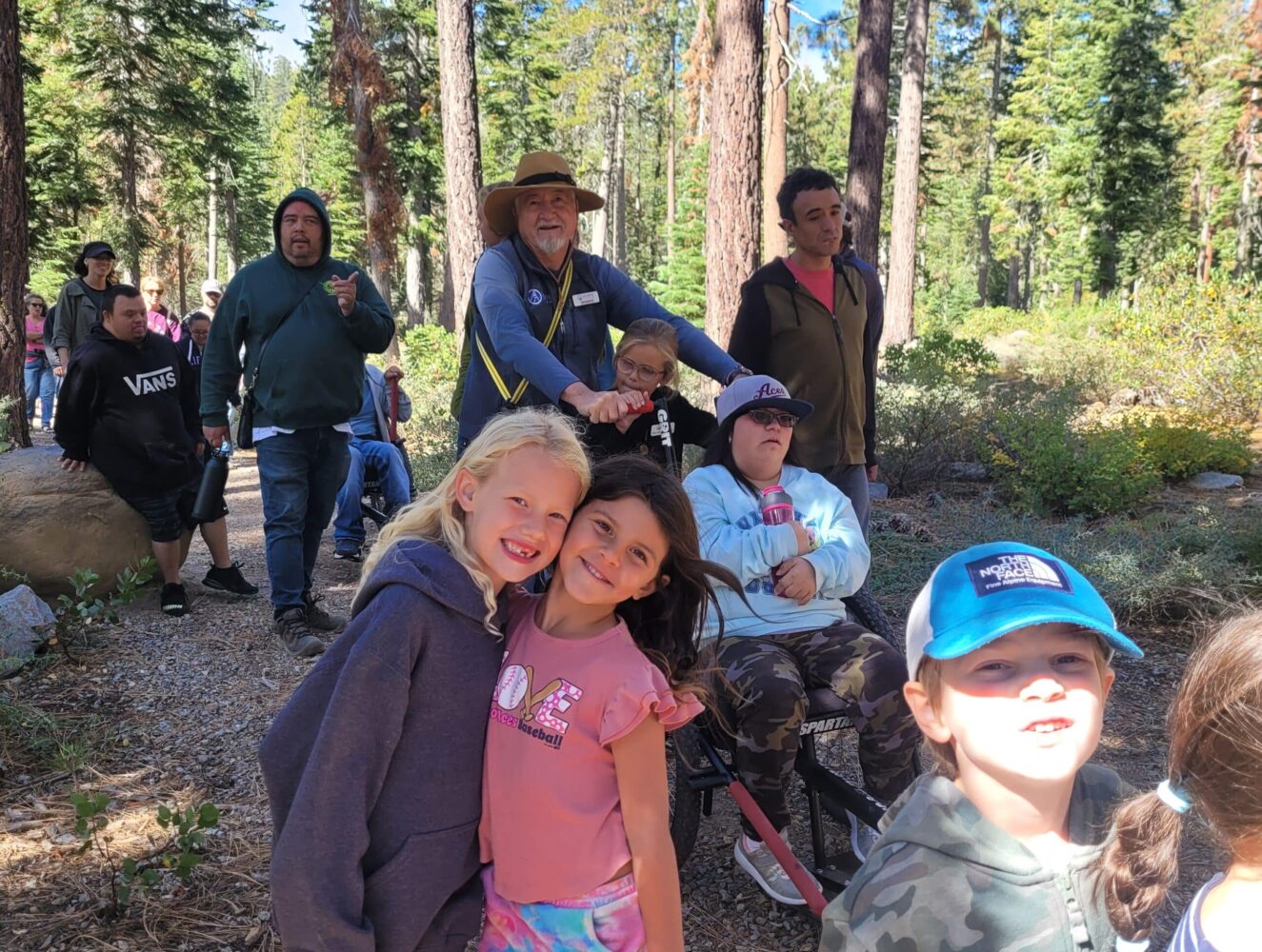 "We give much appreciation to Achieve Tahoe and hope to continue a partnership with them."
We learned today that:
In many ways, our society 'hides' it's disabled people from the rest of the community. One reason is often the absence of inclusive accessibility. Also, because at times disabled people become objectified when out in public. Even though they get many looks, they sometimes feel invisible and events together like we did today help remind them they are seen and respected as individuals.
There are so many ways to be a human being! We can celebrate these differences, be there to get to know each other and find the deep ways in which we are all the same. The children have done a beautiful job of recognizing that everyone has a heart with feelings and everyone wants love & connection.
The term 'inclusive' is being used more than the word 'adaptive' now. We are seeking to make activites and spaces that all people can be included in, rather than looking at it as adapting what is 'normal' to fit others. For example, we will see people doing 'inclusive sports'.
People-first language is important. When referring to a person with down's syndrome or autism, it is more respectful to say, "A person with autism" than "an autistic person". Another way to use people-first language is to find out someone's name and use it! We learned many names today as we interacted and made connections.
Isaac was a great guy who loves visiting the ocean and told us as we hiked together about lots of places to eat seafood at the coast!
Forest , a young man, was very caring when one of our students fell on the hike, stopping to make sure he was ok, and not hiking on until he knew our kiddo was not hurt
Marta hiked along with us showing great perseverance over challenging rocky terrain.
Chris hummed a tune while we walked in the forest.
Jimmy knew all about our old campus on Speckled Ave and loved chatting about the school busses.
Another friend got great joy out of playfully startling us – which made me (and him!) laugh out loud. Some of our kiddos had lots of fun with this, others were not so sure (another lesson in empathy here). He also
Elizabeth, a second grader from San Francisco, who is low-sighted/blind made a wonderful connection with some of our girls. They chatted all about Disneyland and other rollercoaster parks while Elizabeth navigated the trail with her cane. We have invited Elizabeth to become a birder with us this spring, as 'birding by ear' or knowing the bird calls, is even more important than knowing what birds look like. She is so excited to join back up with us this spring to do some birding in Tahoe – and so are we!
There were quite a few tears at our lovely closing circle when the kids shared appreciations. We hope to do another inclusive event together!